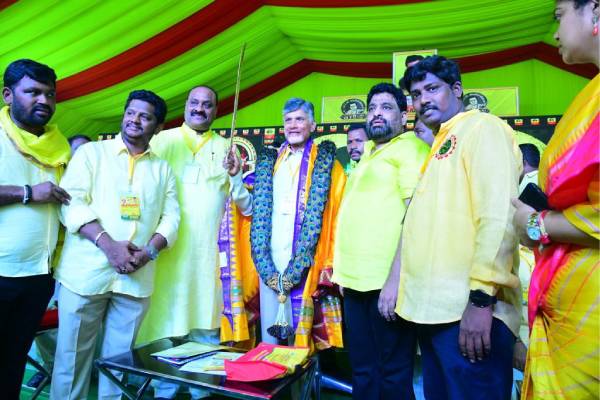 The State revenue affected very badly during the destructive rule of Chief Minister, Jagan Mohan Reddy, said former chief minister and TDP president, Nara Chandrababu Naidu, on Saturday and called upon the intellectuals to ponder over how the State is adversely hit in this psycho and Tuglaq rule.
Speaking at Mahanadu, Chandrababu Naidu felt that the revenue of AP was once much higher than Telangana but now it has fallen so low. From day one, the Jagan Reddy government has been functioning with the sole aim of destroying the State, the former chief minister remarked.
Pointing out that in 2019 the revenue of Andhra Pradesh was Rs 66786 cr while that of Telangana was Rs 69620 cr, Naidu said that by 2022-23 the AP revenue was Rs 94916 cr and the Telangana revenue grew to Rs 1321175 cr. This means the revenue of Telangana is Rs 37,259 cr more than AP, he said.
Had all the projects, including Amaravati, been completed AP would have flourished well, the TDP supremo said and added that in 2019 the revenue through GST in AP was Rs 24957 cr while in Telangana it was Rs 18779 cr, Rs 6,000 cr more revenue in AP than Telangana. However, by 2022-23 the GST revenue in AP was Rs 38840 cr as against Rs 41888 cr in Telangana. All this because there are no business activities in AP, he felt.
The revenue through registrations wing was Rs 5427 cr in AP during 2018-19 while in Telangana it was Rs 5344 cr and in 2022-23 the revenue through the same department was Rs 8022 cr as against Rs 14228 cr in Telangana, Naidu pointed out. In the sales tax too, the AP revenue in 2018-19 was Rs 21914 cr while that of Telangana Rs 20290 cr and by 2022-23 the revenue through sales tax in Andhra Pradesh was Rs 18,004 cr as against Rs 29,604 cr in Telangana, he added.
This clearly indicates that the revenue in AP has come down by Rs 4,000 cr by 2023 than that of 2019 while in Telangana the revenue went up by nearly Rs 10,000 cr during the same period. All this because of the reverse rule of Jagan, he said.