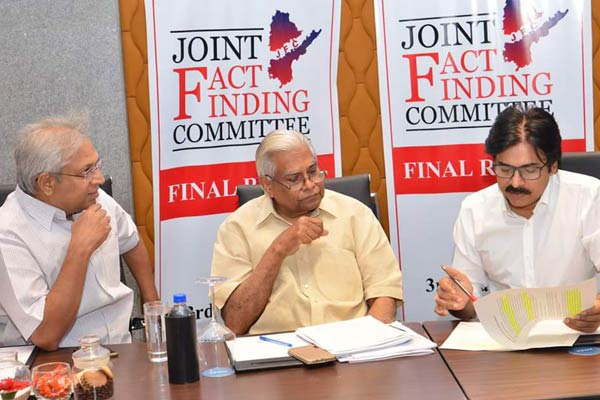 A tense situation is currently prevailing in the state politics. BJP's (alliance) win in Nagaland and Tripura, clearly indicate that the nation is turning 'saffron' slowly, but surely. The regional parties, TDP in particular, which is preparing for an intense fight against the centre, are left in a dilemma.
Adding to the never-ending miseries of TDP, Pawan Kalyan announced that the JFC report will be out today. In this context, key JFC leaders, Pawan Kalyan, Padmanabhaiah, Jayaprakash Narayana and Undavalli attended the JFC meeting. Every political analyst is keenly observing the developments over the current meeting.
With JFC report in his hand, it will be interesting to see what political action Pawan Kalyan will call for. At the same time, opposition party representatives are preparing for a blistering attack, assuming the report comes in favour of AP Government and Chandrababu Naidu.
Another curious aspect is if the report is against the AP Government, who will be Pawan Kalyan's prime target? Is it the Centre or the State Government? With political equations expected to change in the coming few months, political analysts believe, if the JFC report goes against the TDP Sarkar, it could have a deep impact in 2019 polls.