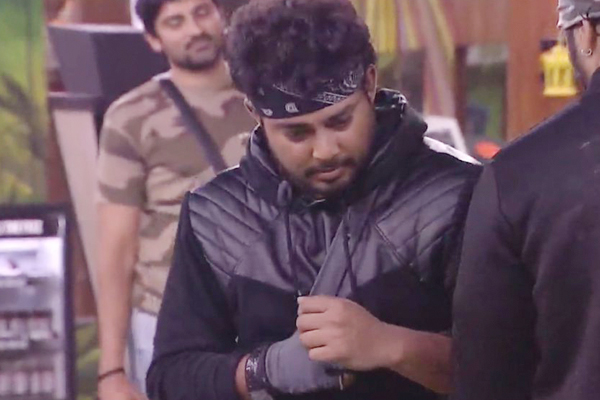 Telugu 360 has done SWOT analysis on the finalists of Bigg Boss season 1 earlier ( www.telugu360.com/will-bigg-boss-telugu-title-winner-swot-analysis ). Let's have a look at strengths and weaknesses of the Bigg Boss season 2 contestants and their prospects to win bigg boss title show. Totally 5 contestants are in the finals- Geetha Madhuri, Kaushal, Tanish, Samrat and Deepti. In this article let's focus on Tanish's strength , weakness , opportunity and threats to win the coveted title.
Strengths:
Undoubtedly his strength is the value he gives for relationships. The way he helped Samrat reach the finale, shows how far he can go to help a friend. In one of the tasks he sacrificed his game for Deepthi Sunaina. Even though many people criticized Tanish for doing so, he later clarified that – for him relationships are more important than winning. The way he campaigned for himself during last Sunday also struck chords with people. He also revealed, since his childhood, he always wanted to see his parents happy than winning something for himself.
His another strength is, he never showed any sort of jealousy in the house. When Samrat reached finals and he missed that chance by narrow margin, he actually celebrated it without showing an iota of jealousy for missing the chance. His physical strength also surprised many. Kaushal who is actually seen most of the time in gym couldn't win over him during physical task of Race to finale.
Weakness:
Sometimes he shows his short temper on the housemates, especially on Kaushal. When Kaushal called the housemates as dogs, he lost his control and spoke harshly on him. That was projected as arrogance to the audience. His another weakness is taking the game so easy. That's why many people don't find him as a very serious Contender.
Opportunities:
Like all other finalists, he also has good possibility of winning the title. People know him as child artist. His comedy timing also liked by the audience. The way he created funny moments in the house (for example Abba em Cheppaaru Shyamala Garu) are well remembered by the audience. Among the current five finalist he was the one who entertained the audience the most.
Threats:
The way he expressed himself in the house during the confrontations did not gel well with audience. During a task in which he was competing with Nutan Naidu and roll rida for captaincy, he even went on to blame Bigboss himself. When people thought his game is at its best once, he himself spoilt it by sleeping in store room. These kind of incidents conveyed negative image to audience.
Overall, Tanish is definitely strong Contender. Many of the housemates who left the house told Tanish's name as one of the top 3 contestants of Bigg Boss season 2. The way he spoke during campaigning received lot of applause from general audience.
We will have to wait and see whether he will win the title or not.