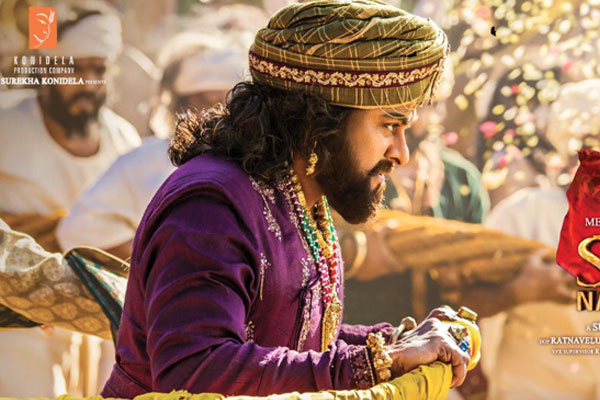 Syeraa Narasimha Reddy Day1 AP/TS Collections
Syeraa Narasimha Reddy has taken a good opening in the Telugu States with a distributor share of 37.6 cr. The numbers are second-highest for any film in the Telugu States behind Baahubali2. The film could have done even better if it hasn't faced capacity issues in cities especially as the show count was affected by war. The film has started on a slow note today which is quite normal on a working day but it's crucial for it to pick up from evening shows.
Note :
Similar to previous Big ticket films, reported shares include 12% GST for Nizam , Uttharandhra, Krishna regions mainly.
Worth distributor share = Reported Share – 12% GST Component
We'll be calling out specifically going forward !
Below are the area wise Day1 shares
| Area | Pre Release | Closing Collections | 13 Days Collections | 12 Days Collections | 10 Days Collections | 9 Days Collections | 8 Days Collections | First Week Collections | 6 Days Collections | 5 Days Collections | 4 Days Collections | 3 Days Collections | 2 Days Collections | Day 1 Collections |
| --- | --- | --- | --- | --- | --- | --- | --- | --- | --- | --- | --- | --- | --- | --- |
| Nizam | 30 Cr NRA | 32.10 Cr | 31.30 Cr | 30.90 Cr | 28.60 Cr | 27.72 Cr | 26.43 Cr | 23.95 Cr | 21.67 Cr | 19.72 Cr | 17.18Cr | 14.62Cr | 12.08Cr | 8.10Cr |
| Ceded | 20 Cr NRA | 19 Cr | 18.05 Cr | 17.95 Cr | 16.95 Cr | 16.61 Cr | 16.11 Cr | 15 Cr | 13.30 Cr | 12.10 Cr | 10.35Cr | 9.05Cr | 7.70Cr | 5.90Cr |
| UA | 14.40 Cr NRA | 16.80.Cr | 15.60 Cr | 15.45 Cr | 14.41 Cr | 14 Cr | 13.40 Cr | 12.30 Cr | 10.75 Cr | 10 Cr | 8.60Cr | 7.40Cr | 6.28Cr | 4.63Cr |
| Guntur | 11.50 Cr NRA | 9.70 Cr | 9.39 Cr | 9.36 Cr | 9.03 Cr | 8.94 Cr | 8.80 Cr | 8.45 Cr | 7.83 Cr | 7.39 Cr | 6.65Cr | 6.19Cr | 5.73Cr | 5.06Cr |
| East | 9.80 Cr NRA | 8.35 Cr | 8.19 Cr | 8.15 Cr | 7.88 Cr | 7.77 Cr | 7.65 Cr | 7.45 Cr | 6.97 Cr | 6.65 Cr | 6.13Cr | 5.72Cr | 5.30Cr | 4.75Cr |
| West | 8.40 Cr NRA | 6.65 Cr | 6.38 Cr | 6.32 Cr | 6.07 Cr | 5.98 Cr | 5.88 Cr | 5.75 Cr | 5.47 Cr | 5.25 Cr | 4.88Cr | 4.63Cr | 4.36Cr | 4.02Cr |
| Krishna | 9 Cr NRA | 7.70Cr | 7.26 Cr | 7.19 Cr | 6.90 Cr | 6.80 Cr | 6.69 Cr | 6.43 Cr | 5.79 Cr | 5.40 Cr | 4.69Cr | 4.25Cr | 3.75Cr | 3.02Cr |
| Nellore | 4.80 Cr NRA | 4.65Cr | 4.38 Cr | 4.35 Cr | 4.18 Cr | 4.12 Cr | 4.04 Cr | 3.90 Cr | 3.40 Cr | 3.19 Cr | 2.89Cr | 2.65Cr | 2.40Cr | 2.09Cr |
| AP/TS | 107.90 Cr NRA | 104.95Cr | 100.55 Cr | 99.67 Cr | 94.02 Cr | 91.94 Cr | 89.00 Cr | 83.23 Cr | 75.18 Cr | 69.70 Cr | 61.37Cr | 54.51Cr | 47.60Cr | 37.57Cr |
| Karnataka | 27 Cr Outright | 16.50Cr | | 15 Cr | | | | 13.30 Cr | | | | | | |
| TN+Kerala+North India | Own Release | 7.90Cr | | 7.60 Cr | | | | 7.20 Cr | | | | | | |
| Overseas | 18 Cr (including expenses & Outright) | 13.50Cr | | 13 Cr | | | | 11.80 Cr | | | | | | |
| Worldwide | 152.90 Cr | 142.85Cr | | 135.27 Cr | | | | 115.53 Cr | | | | | | |