Andhra Pradesh Congress today organized satyagrahas across the state commemorating Mahatma Gandhi against the centre's apathy in according the special category status(SCS) to Andhra Pradesh. While PCC President N Raghuvira Reddy lead the Satyagraha in Rajahmundry local leaders organized the programs in all district head quarters. Speaking on the occasion, Raghuvira said Prime Minister should announced special status to Andhra Pradesh before coming to state to attend the foundation laying ceremony on October 22. " PM should not create a situation where people protest his arrival in Vijayawada with black flags. If he announced the special status the people of the state will receive him with open arms," he said. It was up to the PM to decide whether to have black flags received him or cheers from the people, he added.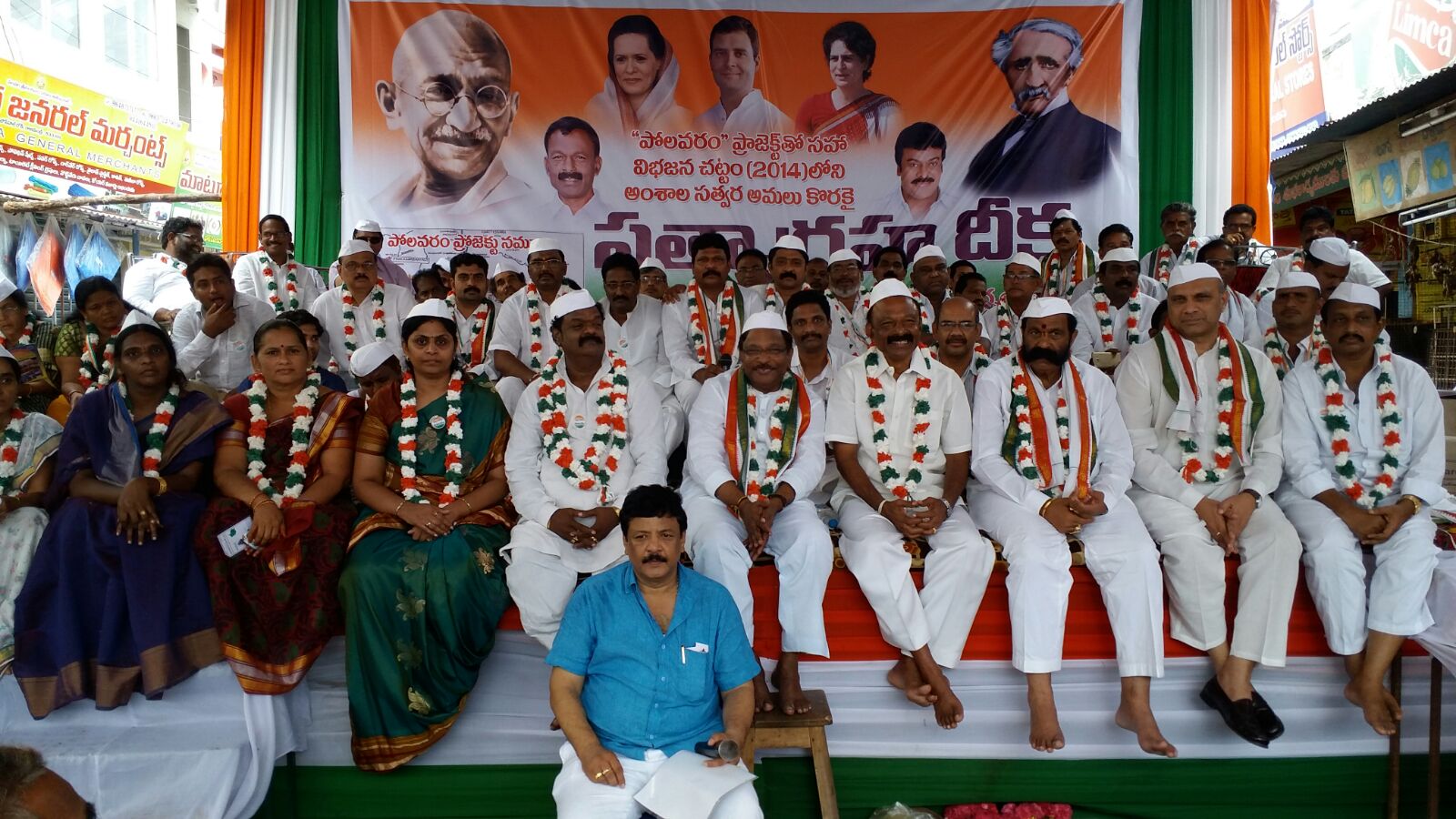 The UPA government had initiated the steps to accord special status to Andrha Pradesh in the manner special status had been given to other states, he said. " Now it is the responsibility of the NDA government to honor it and carry forward the process," the APCC president said. In Vijayawada, city Congress president Malladi Vishnu led the Satyagraha in which scores of party leaders and workers participated. Addressing the gathering, Vishnu rapped both state and central government to going back on the crucial assurance of according special status to Andhra Pradesh. The program began with garlanding of the portrait of Mahatma Gandhi by Vishnua, Akula Srinivas, Kolanakonda Sivaji and Misala Rajeswar.
" Denying special status means placing roadblocks on the path of progress of Andhra Pradesh. The only option for AP to development is getting SCS according. How the special status helps the states to progress is evident in the case 11 SCS states," Vishnu said. Because of the special status, a small state Uttarakhand had got 2000 industries and Rs 30,000 crore investment, he said. PCC general secretary Akula Srinivas said Congress would keep on fighting against the state and central governments till the special status was accorded. According to APCC spokesperson Janga Gowtham, similar programs have been organized across in all district headquarters.