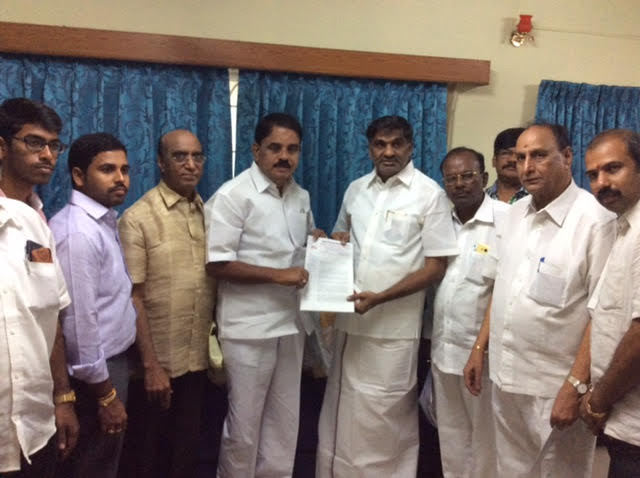 Andhra Pradesh government today took up the matter of scrapping of Telugu medium in schools of Tamil Nadu with state governor K Rosaiah and state education minister KC Veeramani. Andhra Pradesh IT and I&PR minister Palle Raghunatha Reddy met Rosiah on Wednesday morning and sought his intervention in reviving Telugu medium in school in Tamil Nadu. Telugu medium has been removed from Tamil Schools since last year leaving thousands students, who are midway their education, in the lurch. This has created resentment among the Telugus of the state. Dharnas had been staged in Hyderabad by TN Telugu people and leaderof Tamil Nadu Telugu Yuva Shakti Ketireddy Jagadeswar Reddy even urged the chief misters Andhra and Telangana to intervene and come to the rescue of Telugu students. In this backdrop today, Raghunatha Reddy met governor Rosaiah and minister Veeramani to discuss the matter. In his meeting with TN Education minister, Raghunatha Reddy briefed him about the language policy of Andhra Pradesh government. He told Tamil Minister how Tamil was being encouraged in border areas especially in Chittoor district, and how Tamil question papers were being printed even if only one student opted Tamil as second language.
Responding to the plea, education minister Veeramani assured that the state government would consider the problems of Telugu students in Tamil Nadu. He informed to Palle that a meeting of officials from Education department had been scheduled on September 30 and the issues of revival of Telugu medium had also been included in the agenda.
Later talking to media, Palle exuded confidence that Telugu medium would be revived in state. He said Tamil Nadu minister was receptive to his suggestion and his response was positive.