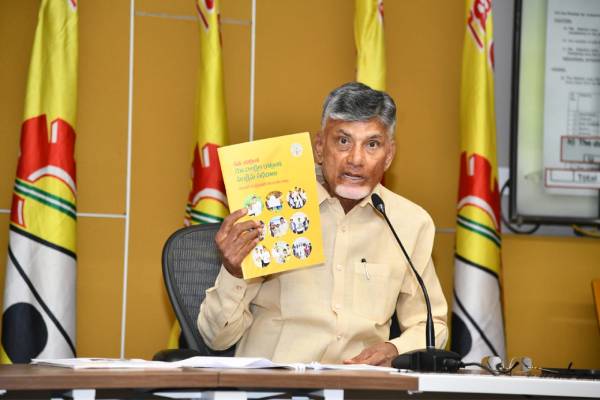 "Exactly nine years have been completed since Andhra Pradesh got divided and the TDP fought for equal justice for both the States during bifurcation," observed Nara Chandrababu Naidu, former chief minister and TDP supremo, on Friday.
While the great Potti Sriramulu sacrificed his life for the formation of a Telugu State, the late NT Rama Rao floated the TDP for the progress of the Telugu community, Chandrababu Naidu told media persons here. "We have achieved recorded results in the world with Vision-2020 within a brief period," Chandrababu Naidu said.
"Late PV Narasimha Rao, who has laid the foundation for economic reforms is the son of our Telugu soil and when I was the chief minister in 1995 we have brought in second generation reforms and moved ahead with the help of technology as a result of which Telangana is on top in technological field" the TDP supremo fondly recalled. The TDP always strived to create assets and distribute them equally among the people, he noted.
With a view to developing the State after bifurcation the TDP has taken the "Nava Nirmana Deekha' and despite the State in deficit budget we have taken all possible measures to take Andhra Pradesh on the progressive path, the former chief minister said.
Observing that there is absolutely no development in the State now, Chandrababu said that when the TDP was in power all possible steps were taken to improve the minimum basic amenities and even laid roads in the rural areas. Visakhapatnam city which was the IT hub during the TDP regime now turned into a centre for ganja cultivation and sale of drugs, he added.
If the employees are asking for payment of their salaries, false cases are being foisted against them, Chandrababu said with a tone of concern. But the YSRCP leaders are minting crores of rupees through sand, land and other mafia, he stated.
"I am really pained to see the prevailing situation in the State. We will definitely develop the State and the TDP will take the responsibility of taking the State forward," Chandrababu Naidu observed.
Chief Minister, Jagan Mohan Reddy, is doing great injustice to the State and is marketing even the Rajya Sabha seats. He failed to demand for special category status for the State," he remarked.
Chandrababu Naidu promised to make the poor as rich by 2027 with the agenda and the TDP will take the responsibility to hand over back the assets looted by the YSRCP leaders. It is really meaningless that Jagan is claiming that the items in the TDP manifesto is the copy of that of his party, Chandrababu Naidu maintained.