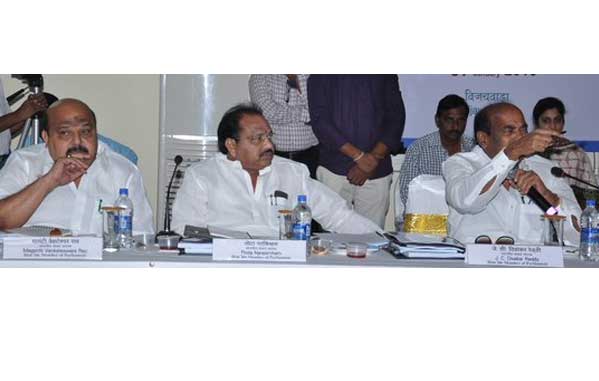 The customary meetings of Railways with MPs from Telugu states Andhra Pradesh and Telangana ended up in fracas. ruling party MPs from two states walked out of the meeting organized by Ravindra Gupta, General Manager of South Central Railway, protesting the attitudes of Railways towards the two states. While Telangana Mps walked out of the meeting yesterday, today, Andhra Pradesh MPs did the same thing in Vijayawada.
TDP decided walk out of the meeting held in Railway function hall when the GM Ravidra Gupta said the SCR had no funds to meet the demands of the all the MPs. Later the GM conducted the meeting with YSRCP MPs, who presented memorandums on various Rail Projects.
It is customary for the GM of Railways to hold a meeting with the state MPs to take their suggestions to be incorporated into the ensuing Rail Budget. As Andhra Pradesh is now separate state Gupta held the meeting in Vijayawada today for the benefit of Andhra Mps as part of the budget preparation.
Raising the status of many pending projects and ongoing projects, the MPs asked the GM to allocate more funds to complete these projects in an expeditious manner. But, the Gupta expressed his inability to increase the allocation stating that the SCR was facing the fund crunch. Then all the MPs quit the meeting.
GM's reply led to an argument between the TDP MP JC Diwakar Reddy (Anantapur) and the GM. " When you have no funds to allocate to improve the stations, when the railways is not in a position to give more trains and you are not able to complete ongoing projects on time, then there is no meaning in conducting the meetings," JC told the GM.
Later talking to the media, TDP MPs said they would meet the Railway minister Suresh Prabhu and place their demands before him.
The Andhra MPs alleged that these meetings had become a non-serious affair. The department was not taking anything the MPs say into consideration said TDP MPs Konakalla Narayana and Maganti Babu.