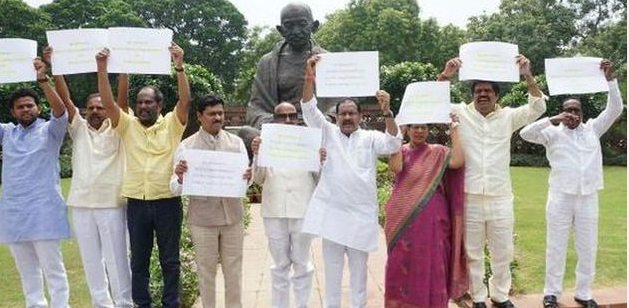 The problem of TDP in Parliament is that it is neither here nor there. Since the party is a partner in the Mody led NDA government it is not expected to shout like the Opposition in the parliament and rush into the well, at the same it can't afford to remain silent when part-time politicians like Pavan Kalyan also started attacking it. This predicament of the party is making it butt of a joke even among the party MPs.
As if it is a reply to Pavan, who asked what were the TDP MPs doing parliament to get special status accorded to Andhra Pradesh, TDP MPs today staged a dharna demanding special category status to Andhra Pradesh.
The MPs led by Rajya Sabha MP CM Ramaesh demanded the implementation of all assurances given at the time of passage of Telangana Bill such as incentives to industries, grants to bridge the deficit created by loss of revenue of after bifurcation and granting the special category status .
Holding placards, the TDP MPs chanted slogans such as "grant of special category status" and "implement all promises made to successor state of Andhra Pradesh".
The MPs finally ended up criticizing Congress for disrupting the house and  preventing TDP members from raising the special status issue in Parliament.
But, JC Diwakar Reddy cracked serous joke on the dharna.
The Ananatpur MP, who might have participated in a dharna probably for the first time in his political career, was not happy with party's  perfunctory approach to these issues.
"This dharnas is staged perfunctorily," he let the cat out of the bag.
" This dharna program has been taken up as a knee jerk reaction to Pavan Kalyan's attacks. This won't take you any where," he revealed what is in his mind.