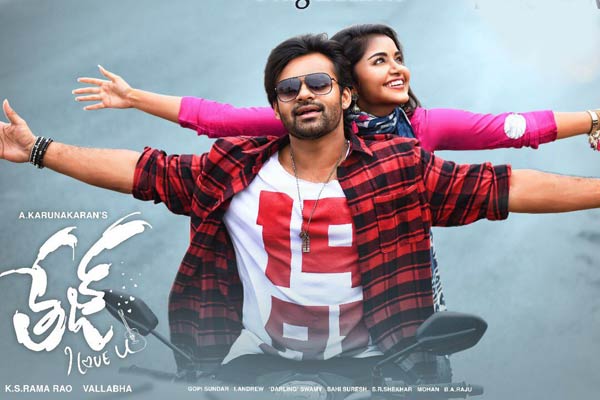 Tej I Love You Audio Review
Tej I love You is an upcoming romantic film starring Sai Dharam Tej and Anupama Parameshwaran in lead roles. Music for this film is by the melodious composer Gopi Sundar. The film is directed by Karunakaran who is known for romantic flicks since Pawan Kalyan's Tholi Prema.
The album begins on a funky note with Happy Happy Family sung by the folk star Simha and penned by Gosala Rambabu. The usage of peppy electric guitar gives it a retro feel which is fused with modern sounds. The song is quite foot tapping and also brings a good kickstart. The interludes go with the flow effortlessly with ease.
Nacchutunnade Vacchi is sung by the talented singer Haricharan which raises the rhythm bar a bit more. The energy levels of this song is quite infectious with decent rhythm section and stylish presentation. The interludes are funky to the core and youthful sounding throughout. Usage of Sitar in the interludes in the midst of jazzy piano is quite a good stroke.
It is time for a beautiful melody Andamaina Chandamama which has nostalgic feel with its rhythm and lovely chord progression. Haricharan and Chinmayee do a fantastic job with their swift vocals for this jazzy number. The interludes is a sublime feast with saxophone and string section.
Adhe Kannu Needi is a classic rock number with Haricharan's strong vocals. Rama Jogayya Sastry's lyrics are quite pleasing and poetic to hear. The usage of progressive guitar is a good experiment for this number. The song goes on with the flow of the album and retains the youthful style.
The finale comes with Hello Pilla Suno Laila which has a mass appeal but showcases great classy look. Yazin Nizar pulls of this song with great confidence and ease and Rehman's lyrics are casual and conversational. The digital loops used in the background are quite 80s style and retro.
Verdict:
Tej I Love You is an essential youthful album which entertains the audience who love melodious soothing numbers.
Our Picks: Andamaina chandamama, Adhe Kannu Needi