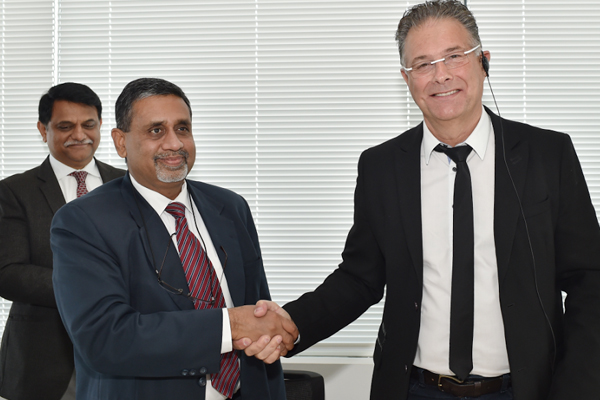 Telangana Chief Secretary Dr Rajiv Sharma signed a Memorandum of Understanding(MOU) with Bordeaux Metropolis (France), represented by Michel Vernejoul, Vice President of Bordeaux Metropolis. The MoU aims at strengthening economic links between Telangana State and Bordeaux Metropolis in Bio-technologies, Aeronautical engineering, IT sector and in areas of urban renewal.
Chief Secretary also met representatives of other institutions including Aero Campus Aquitaine and Sabena techniques in Bordeaux to explore possible areas of cooperation and investment. This was followed by a meeting with number of companies in Stockholm including Electrolux and Ericsson and a visit to Almhult, Ikea's headquarters in Sweden.
It may be recalled that BV Papa Rao Advisor to Government of Telangana earlier negotiated the draft framework agreement regarding this during his visit to Bordeaux Metropolis (France) last month. After the framework agreement several specific agreements with the in the areas identified for cooperation will be signed. These areas include urban development, urban mobility, water management and Musi River Development. In the area of economic cooperation aeronautic engineering, Information Technology, Bio-Technology and Wine Industry there will be agreements. In the cultural field it would be art, architecture and tourism development.