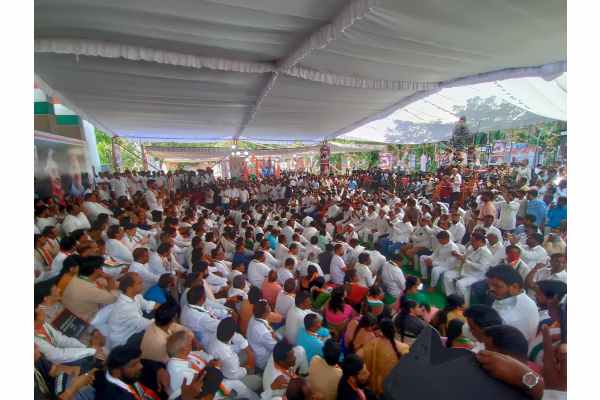 Telangana Congress leaders staged satyagraha at the party office in Hyderabad on Sunday to protest against disqualification of party leader Rahul Gandhi from Parliament.
Manikrao Thakare, the in-charge of Congress party for Telangana, led the protest at Gandhi Bhavan, the state headquarters of the party.
Congress party's central leader Tariq Anwar, Telangana Pradesh Congress Committee (TPCC) President A. Revanth Reddy, MP Uttam Kumar Reddy and other leaders participated in the protest.
The Congress leaders condemned Rahul Gandhi's disqualification and called it a conspiracy by Modi government. They vowed to continue the protest till the disqualification is revoked.
Manikrao Thakare said Rahul Gandhi was targetted as he was exposing the loot of public wealth by Adani with support from the Modi government. He said the Congress leader has made it clear that he is not afraid of anybody and will continue to raise the voice of the poor of this country.
Revanth Reddy alleged that Rahul Gandhi's disqualification is a conspiracy by Narendra Modi government. "The government was unable to politically face Rahul Gandhiji and hence disqualified him," he said.
"Today BJP might disqualify him but tomorrow he will be the Prime Minister," said Revanth Reddy.
Uttam Kumar Reddy alleged that Rahul Gandhi was disqualified under a conspiracy. He said the speed with which the Congress leader was sentenced in the defamation case raised many doubts. He pointed out that trials in defamation cases continue for years but in this case, the court delivered the judgment within a few weeks.
The former TPCC president said though Surat court gave a month to Rahul Gandhi to challenge the sentence in a higher court, the Modi government acted in haste to disqualify him within 24 hours.
The Congress leader said since Rahul Gandhi had been raising his voice in the Parliament to expose Modi-Adani nexus, the government got him disqualified to gag his voice.
MP Komatireddy Venkat Reddy said if necessary, all Congress MPs should resign to show solidarity with Rahul Gandhi.
Former state ministers K. Jana Reddy, Ponnala Lakshmaiah, Mohammed Ali Shabbir, former Union minister Renuka Chowdary, former MP V. Hanumantha Rao and others participated in the protest.