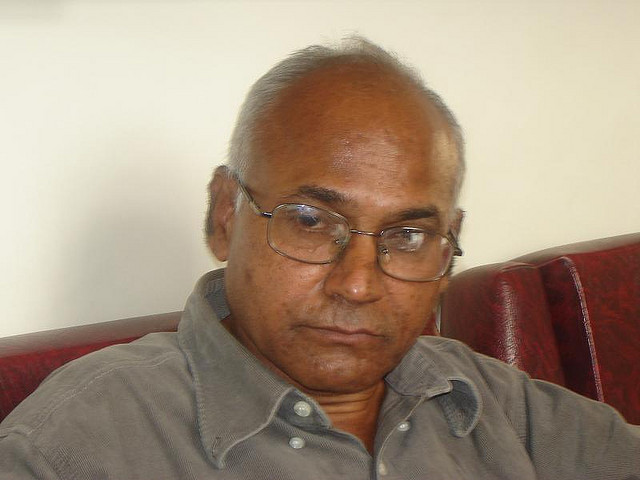 Noted political thinker of contemporary India, Kancha Ilaiah took strong objection to chief minister K Chandrasekhar Rao touching the feet of President Pranab Mukherjee and Governor ESL Narasimhan.He says as chief minister he is not supposed to do that. Between 1956 and2014, no chief minister had ever displayed this type obeisance  to other constitutional authority in public and in an official program. This, Prof Ilaiah says, is insult to the people of Telangana. In a recent critique, he said Telangana, instead becoming a Bangaru Telangana, is getting transformed into Vaishnavandhra Pradesh. While his radical line against Hindu society has earned him numerous followers across India at the same he was severely chastised by right wing forces. Vishwa Hindu Parishat has filed a case against him for his article "Devudu Prajaswamya vadi avuna kaada? (Is God A Democrat or Not). Following are the parts of his interview given to teludu360.com.
Why do you disagree with chief minister KCR touching the feet of the President and the Governor?
As a private individual he has every right to do what he fancies within the four wall of gadi. As a public authority representing four crore population that consists not only of Hindus, but also Muslims, Christians and others, he is not supposed to do. There is a caste angle to the issue. Would he have paid this obeisance had the President and Governor been dalits?  Telangana is formed after a protracted agitation. Every agitation should lead the society on progressive path. Unfortunately present day rulers are trying to push the state into past by spending hundreds of crore of rupees of tax payers' money on temples. Allocation of Rs 100 crore to temples in a state where poverty is ubiquitous is unpardonable.
Why is this happening?
The basic issue is the nature of the leadership of Telangana movement right from the beginning in 1969.All the leaders from Marri Chenna Reddy to KCR represent the feudal class and culture. Under their leadership, not only has the T-movement robed the people of their rationality engendered by their association with great Telangana armed struggle and other peasant movements. The basic deficiency of Telangana movement was its lacking in progressive element. It was a general mass mobilization by feudal forces. Political movements carry reforms and lead to transformation of society. Telangana agitation was not a radical reform movement. So, the Telangana state, though achieved after decades long mass mobilization, is like any other state with regressive, backward thinking.  The leadership deployed the rituals of bygone eras into the movement and now they want people to practice them. There is a gaping hole of irrationality in the idea of Telangana. This space is now being occupied by seers and Babas.Chinna Jeeyer Swamy is one such  seer. Having adopted by Velamas, state is sponsoring his campaign in developing Vaishnva cult. This is not without any meaning. The Gods being promoted in Telangana are Kshatriyas. This cult suits the 'power and sex' politics of our times. See the language the chief minister uses against those who oppose him. It reeks of feudal dominance.
What would be the future of Telangana?
The greatest loss to Telangana after bifurcation is its severance of connection with the sea-coast. In India all land-locked states such as Bihar, Madhya Pradesh, Rajasthan and Uttara Pradesh are bimaru states. Sea-coast is the gateway to outer world. T-State has to suffer to this extent. If the efforts to Vaishnavize the state with the help of seers were to continue, Telangana society is bound to suffer. Take the case of Gandhiji. Though a believer in Hinduism, Gandhiji had never visited any temple during nationalist movement. This helped spread of modern education in those days. National movement reformed the society in every conceivable way. Freedom fighters never destroyed the education. Telangana movement by closing colleges and schools had destroyed the education, especially of the poor.  Present rulers are more eager to finance the Hindu Temples rather promoting the education, modernity and scientific ideas. These trends will hurt the progress of T-society in long run.
Why is it that there has been no opposition from Telangana intellectuals?
The Telangana intellectuals in the past ten years have become part and parcel of the movement that was not progressive. It is true, the movement has resulted in realization of statehood. Though Telangana state is formed, it is full of feudal values, regressive ideas and anti-poor ideologies. We can't expect more from it. Now, they have to come out and halt the state from being driven backwards.
(Prof Ilaiah is now Director, Center for the Study of Social Exclusion and Inclusive Policy (CSSEIP).Maulana Azad National Urdu University, Hyderabad.)