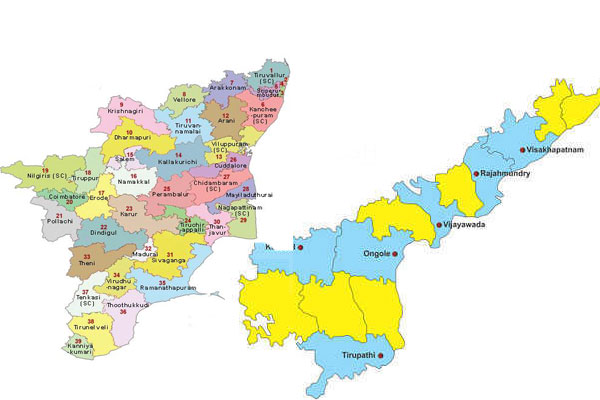 Language is serious political subject. Throughout history, it has been a made a tool to mobilize people to form governments or to dislodge existing governments or kingdoms. Those who are conscious of the power of language always try to scuttle any attempt of people to coalesce into the identifiable group. Tamil Nadu is very sensitive to the language aspect. The Tamil parties know pretty well that Telugus are a potential group if allowed to talk of their language in Chennai. So, all governments tried to eliminate Telugu from Tamil Nadu. A sister language, Telugu, is being crushed there.
Telugu movies are not exhibited there. Telugu subject is being removed from schools. Once a Telugu teacher is retired, there wouldn't be any refilling of the post. It is all because of the fear of political power of the language. Who knows, if not tomorrow, someday in future, Telugus may forma political party and pose a threat to the party in power?
Telugus of Tamil Nadu are a worried lot. They can't stage any protest in Chennai. So, the Tamil Nadu Telugu Yuva Sakthi is planning a Maha Dharan at Indira Park in Hyderabad on September 10 against the ill-treatment meted out to the sister language in Tamil Nadu. For the purpose, a poster has been released by CPI leader K Narayana in Hyderabad. Tollywood director Teja and hero Dileep were also present at the occasion.
Narayana extended full support of CPI to the Maha Dharna and assured the Nadu Telugus that he would take their problems to the notice of Andhra Pradesh chief minister N Chandrababu Naidu. He also said the CPI would write a letter to Prime Minister Narendra Modi on the issue. Narayana also is of opinion that chief minister Naidu to speak to his Tamil Nadu counterpart J Jayalalithaa about the problems of Telugu students in Tamil Nadu. He reminded how the schools in Andhra bordering Tamil Nadu are facilitating students to learn Tamil.
Tollywood director Teja wants chief minister Naidu to solve the problems of Telugus in Tamil Nadu. Tamil Nadu Telugu Yuva Sakthi president Ketireddy Jagadeeshwar Reddy called upon all Telugu lovers to take part in Maha Dharna and make it a grand success.