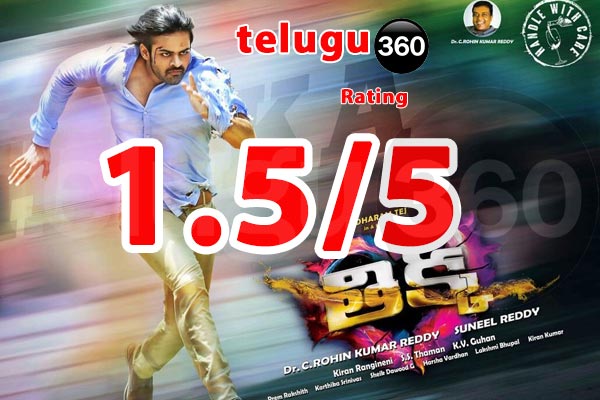 Thikka Review , Tikka Review
Telugu360 Rating 1.5/5
Story :
Aditya ( Sai Dharam Tej) and Anjali ( Larissa Bonesi) meet each other in an accident in which their vehicles collide. Aditya falls in love with Anjali at the first sight, but the latter rejects him initially. After couple of interactions Anjali also falls in love with Aditya. Things change when she realizes that he is not a serious guy. She comes to know that he is silly and nonchalant person who doesn't care much about relations. Pissed off with his uncaring attitude, she breaks the relation with him.
In parallel, another lady Mannara Chopra is in deep love with Aditya and wants him so badly that she even attacks him for not loving her.
Also, a few other silly stories are simultaneously narrated. Aditya's father ( Rajendra Prasad) and Kamala ( VJ Boni) are in love with each other. Kamala is a drug junkie and this couple meets each other in a rehabilitation center.
Sadhu (Ajay) gang tries to kidnap Kamala, who is the daughter of his friend. On the other side, Raghu Babu's gang tries to kidnap Anjali. Due to the mistaken identities, both kidnappers and victims get jumbled across.
Rest of the story is how Aditya rescues the ladies from kidnappers.
Analysis:
It is evident from the first scene that the prime intention of the director is to make a nonstop comedy genre movie on the lines of Hollywood movie Hangover and some recent Bollywood comedies. In such attempt, director Sunil Reddy and script writer G. Shake Dawood delivered a blooper. Through the film, it was a torture for audience who struggle to figure out what is happening on screen. The screenplay is utterly awful and there is no humor to keep the audience entertained.
None of the characters are properly been etched. Especially, senior hero Rajendra Prasad character is a big shame for his stature. With his ridiculous costumes, hairstyle and shoddy makeup, he looked so irritating throughout the movie. Similarly, comedian Ali too, with his atrocious looking wig and makeup, appear a cheapjack in the film.
Sai Dharam Teja, who has shown a lot of ease and dedication in his previous films, is expressionless or emoted odd expressions in many scenes. It is better we talk as less as possible about the heroines. They hardly have any role in this chaotic drama and they neither know the basics of acting.
Songs:
Hello Hai and Tikka Tikka songs are picturized in trendy manner and these two songs looked ok on screen. Music director Thaman appeared in Hello Hai song. Dirty picture is an item song aimed at masses. Other songs doesn't make any impression, ends up as filler songs.
Positives:
Nothing much to say about the positives. Only the two songs are a matter of relief for the audience.
Negatives:
Lack of comedy
Rajendra prasad and Ali characters
Bad performances by all cast
Confused direction and poor narration
And rest everything else is too bad
Verdict:
Thikka movie's first half is bad and second half is worse. This movie is one such movie where everything has gone awry. Sai Dharam Tej should be very cautious about his story selection at this point of his career . At Box-office, this movie may have some revenue till first weekend in India. At overseas Box-office , Thikka will end up as one of the lowest grossers in recent years.
Telugu360 Rating : 1.5/5
Cast and Crew:
Sai Dharam Tej, Larissa Bonesi, Mannara Chopra, Rajendra Prasad, Ali, Vennela Kishore,Gurbani Judge( VJ Bani) , Tagubothu Ramesh, Ajay, Raghu Babu,Saptagiri, Mumaith khan
Producer : Dr.Rohin Kumar Reddy
Director : Sunil Reddy
Cinematography : K.V.Guhan
Editor : Karthika Srinivas
Music : Thaman SS
Released on: 13-08-2016
Telugu360 is always open for the best and bright journalists. If you are interested in full-time or freelance, email us at
Krishna@telugu360.com