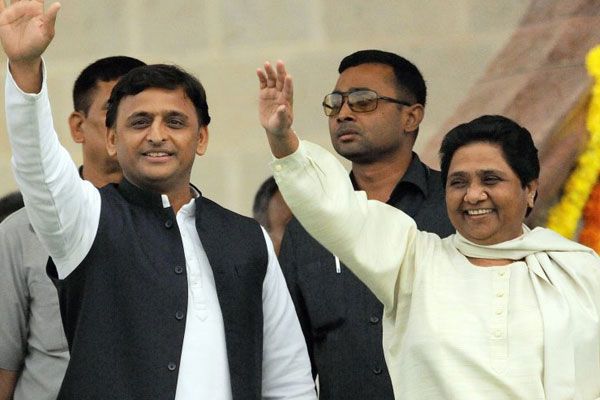 PM Modi's dream to continue in power after 2019 election for a second term is in certain danger now. The threat comes from the country's largest state Uttar Pradesh which has 80 Lok Sabha segments 545-member House. The danger is posed by Akhilesh Yadav and Mayawati who are dead against the BJP.
The Samajwadi Party and the Bahujan Samaj Party will now contest 38 segments each in 2019 parliamentary election. They left just four seats for others which included Amethi and Rae Barelli for the Congress party. Mayawati and Akhilesh announced that their alliance was aimed at saving the country from falling into the hands of Modi once again and this danger should be averted in the coming election.
In 1993, the SP and the BSP had an alliance between Mulayam Singh Yadav and Kanshi Ram when they got victory. They are hoping for a similar success this time. Mayawati has indicated their alliance will be working only against the BJP and the Modi leadership. She said the Modi government's functioning has brought in an emergency-like situation across the country.
Telugu360 is always open for the best and bright journalists. If you are interested in full-time or freelance, email us at
Krishna@telugu360.com