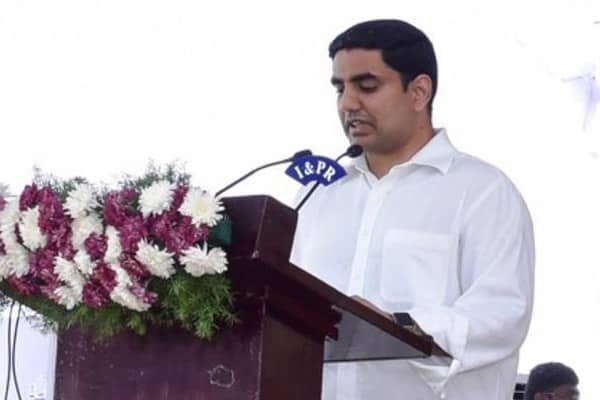 Telugu Desam Party leader Nara Lokesh is turning out to be more than just Chief Minister Nara Chandrababu Naidu's only son, by outperforming at work after taking oath as Minister in April. Lokesh was bestowed with portfolios of Minister for Panchayath Raj, Rural Development, IT&C. He is not only gaining expertise in the assigned roles but also has exceeded the expectations of his father. The minister who had a rough start, is now delivering beyond anticipated. The rural development minister's chamber has witnessed a surge in the number of visitors, where he is seen accepting requests and complaints from people and party cadre. If reports are to be believed, not one file related to his departments lies pending. Lokesh ensures to take special precautions in clearing vigilance related files. It may be recalled that he was available for public grievance redressal in the absence of his father, being the only minister to be available to public at that time. He is responding to the requests on social media, electronic and print media and giving orders to officials to look into it.
With the inaugural of Jalavani call center, his ministry has become a role model for other departments. In a bid to resolve drinking water problems, Jalavani Call Centre with toll free number was setup which is receiving overwhelming response from the public. He received around 4,848 complaints of which 2,194 complaints were cleared while 1,124 complaints are being addressed. With the assistance from other departments, the works related to 915 complaints will be carried out.
Lokesh launched the 'Palle Palleku LED Velugulu' an exercise to replace 5 lakhs conventional bulbs with LEDs within 45 days. The long-term plan is to setup 32 lakh LED bulbs in all the 12918 villages in the State within a year's time.
To ensure that all villages in the State will have CC roads, rules were modified. His department of Panchayat Raj is actively working to complete the target set to to lay 12,000 km CC roads and provide underground drainage connections in the villages with more than 5,000 population.
A pilot project of underground drainage system and also the vermi-compost units was taken up under solid waste management in the villages in East Godavari. Lokesh aims to start 53,393 vermi-compost units in the state out of which 7,847 units have been already been grounded.
He is working on re-assigning reserves to the constituencies and is focussing on allocating more funds to the regions that got less funds in last three years.
The TDP leader is working towards bringing NREGS and pension schemes under real time governance at a very fast pace to solve various issues in both the schemes.
His department is finalising the modalities for the establishment of Drinking Water Corporation through which every household will get drinking water through tap connection within two years. He aspires to complete the NTR Sujala Sravanthi water plants at Uddhanam by July ending.
With the onset of monsoons, to prevent seasonal diseases and improve hygiene the Panchayat minister announced construction of underground drainage in villages which have a population of more than 5,000.
As a minister of IT, Lokesh was able to get all the necessary permissions in a record time of 45 days earning him appreciation from the industry, specifically in attracting IT major HCL Technologies to invest in the state.
The IT&C minister inked an agreement ANSR company which will be investing Rs 1000 crore to create 10,000 jobs in the next 10 years, to transform Vishakapatnam into IT Hub.
He was modest enough to accept that he doesn't know much about the villages, as he spent his entire childhood in Hyderabad. Despite the rough patches, Lokesh seems to exceed expectations and continues to shine brighter than anticipated.