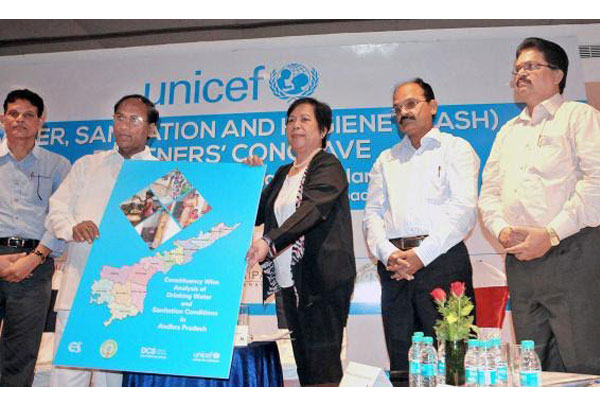 Around the same time, when Chandrababu Naidu was briefing Singapore Prime Minister Lee Hsien Loong about the World Bank rank to Andhra Pradesh in ease of doing business today, Assembly speaker Kodela Sivaprasada Rao released a study report that demolished the development of Andhra Pradesh and its reforms. About 64.92 per cent of state people have no water provision in their houses and 52.50 per cent still practice open defecation,according to the report the speaker released.
While Andhra Pradesh may be second to only Gujarat in ease of doing business , but its track record, according to the report, is terribly poor as far as the provision of drinking water is concerned. The study revealed that the state has not made much progress in providing drinking water and total sanitation facilities, particularly in rural areas. These areas remained untouched by the so called reforms and the modern governance. The report, 'Constituency-wise Analysis of Drinking Water and Sanitation Conditions in Andhra Pradesh' hs s been prepared jointly by the Division of Child Studies of UNICEF and Hyderabad based Centre for Economic and Social Studies(CESS). Like World Bank, Unicef is also a credible international organization and CESS an autonomous research organization.
The report has been released by Andhra Pradesh Assembly speaker Kodela Sivaprasada Rao in Unicef office of Hyderabad.
According to the report only 35.8 per cent households have water facility in their premises. While West Godavari tops the list of districts in Andhra Pradesh with 55 per cent, Srikakulam is the lowest with 15. 57 per cent. The households that have water facilicity in the premises account just 25.88 per cent in Kurnool district. As far latrine facility, only 47.5 per cent household have latrines. In this aspect Krishna occupies top rank with 70.35 household, Anantapuram and Srikakulam are at the rock bottom with 22.01 per cent and 21.24 per cent respectively.