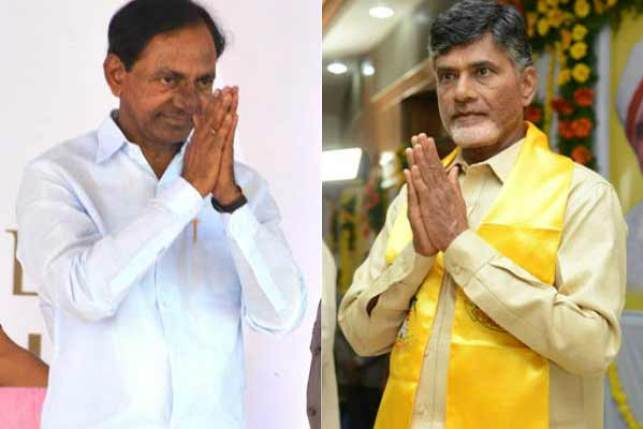 Criticism between the Telugu Desam Party and the Telangana Rashtra Samithi (TRS) has just begun. With Chandrababu Naidu launching his poll campaign, and K Chandraskhar Rao talking to the media, the two honchos of the rival political formations have kickstarted the political game of WWF in Hyderabad.
Naidu with his usual chest-thumping rhetoric claiming credit for every good thing under the sun, however, enthused the crowds, when he addressed sizeable public meetings in divisions where his party enjoys clout on Thursday. The TDP knows how to organise itself for any elections, no matter what the outcome would be.
He said he had got the nod for Metro Rail and had TDP been in power, it would have got it completed in three years. Isn't this a yard stick he is handing over to people of Andhra Pradesh to measure his own performance? If he fails to deliver on this – let us confine only to the Metro Rail, doesn't Naidu know that his electors would conveniently remove the "yard" part and use the stick part on his party? He knows, after all, as he was at the helm for several years.
Foundation stone for Rajiv Gandhi International Airport at Shamshabad was laid by UPA Chairperson Sonia Gandhi on March 17, 2005 and she inaugurated the greenfield airport on March 15, 2008. Both occasions were during the YS Rajasekhara Reddy regime.
Manmohan Singh as the Prime Minister of India laid the foundation stone for the construction of the magnificent Outer Ring Road on January 3, 2006. The first phase of ORR was inaugurated on November 14, 2008 during the same YS Rajasekhara Reddy regime.
Chandrababu Naidu surely must be credited with ideating the projects when Hyderabad was reaping the benefits of the economic reforms launched by PV Narasimha Rao. Though Indira Gandhi's gareebee hatao slogan was popular, nobody who came out of the clutches of poverty attributes the same to Indira Gandhi. The circumstances play a major role. Cronies of Naidu may croon credits saying: "If he had not planned it then…" Well, it was inevitable. So, he did. Then Why at all the next governments never thought of Janmabhoomi program? Why have they dumped it?
So, what is necessary will continue, no matter who ideated a scheme. Can Andhra Pradesh Government do away with Arogya Sri – which is now rechristened as NTR Arogya Seva?
So, the fodder for TDP is surely chest thumping for things it isn't responsible in the GHMC polls.
KCR is no different. He is a chip off the same block. He questions why couldn't Chandrababu Naidu eliminate power crisis in Hyderabad during his regime as the Chief Minister of the combined State? NTR and Naidu together were at the helm for 17 years and why did they not resolve several problems confronting the people, asked KCR. How conveniently a politician of his stature has forgotten that he was an integral part of that system until 2001. More than 18 years, he had sailed with those leaders.
It was Naidu who first thought Hyderabad and at least two other major cities should not be affected by power cuts. He had risked his party's political prospects while taking that bold decision. He had lit up Hyderabad and a few other cities in the State, at the cost of several villages. In the process, he incurred the wrath of the farming community. Yet, he did that.
How is KCR's claim of giving uninterrupted power in Hyderabad last year different? Has he ensured uninterrupted power supply to rural areas in Telangana? Even if the supporters of the TRS assert in the affirmative, it is not true. People who reeled under power cuts don't forget it. That he had managed the power situation reasonably well is beyond any argument. Of course, that was a cut copy job from what Chandrababu Naidu had done earlier.
Promises galore. People are being taken on a garden path. Lokesh and KTR are entertaining the voters in division after division with their campaign for their respective parties.
But why are they not attempting to conquer the Majlis e Ittehaadul Muslimeen (MIM) bastion? Why has the BJP given up on GHMC? What is the logic in announcing the smart cities list at this point in time? Hasn't it thrown its hands into the air at a wrong time?
The grand old party Congress has reduced itself into an also-ran entity. By announcing its mayoral candidate, it made a mockery of itself. For, it never had announced its prime ministerial or chief ministerial candidates when it was required.
YSR Congress knows its place. Jagan gave a crossover, as he is a non-entity in Hyderabad. But is it the wise counsel that prevailed on him or poll reluctance that gripped him? Whatever, his party is finished in Telangana. Kudos to his decision, for not renewing the Warangal joke in Hyderabad.
While all these are the antics and angularities of politicos, how much of an influence does an elected civic body cast on the administration? How many people remember the name of the Corporator who represented them in the erstwhile GHMC body? Isn't it an indicator to the fact that the general body is being converted just into an ornament by successive State governments? Local governance with focal points in the corridors of power is the phenomenon practiced for ages.
Telugu360 is always open for the best and bright journalists. If you are interested in full-time or freelance, email us at
Krishna@telugu360.com