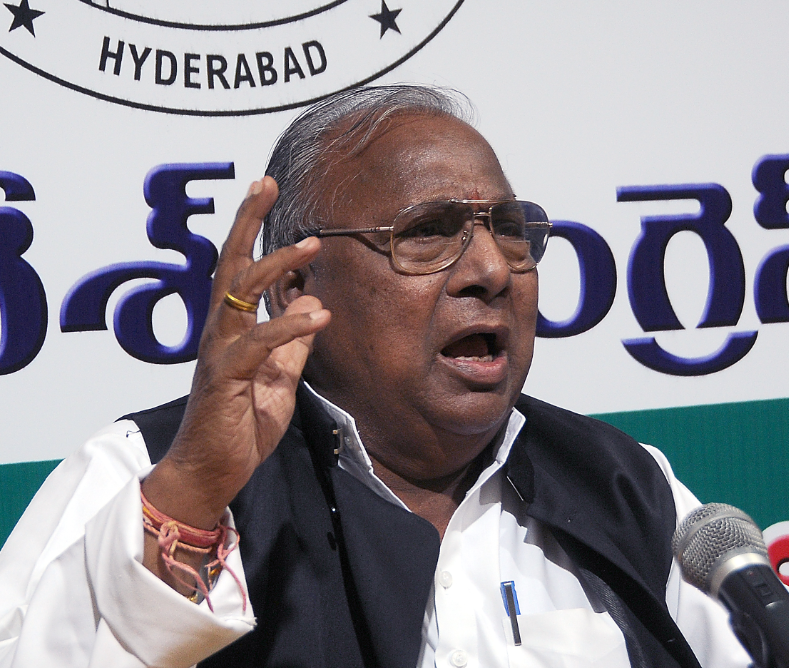 Telangana Congress today disowned three past PCC presidents who ditched the party and crossed over to other parties. Rajya Sabha member V Hanumantha Rao accompanied by former minister R Damodar Reddy removed the portraits of former PCC presidents K Kesavarao, Botsa Satyanarayana and D Srinivas from the Conference hall of the party headquarters, Gandhi Bhavan. The hall, refurbished and airconditined by none other than Botsa when he was PCC president before 2014 elections, is adorned by the portraits of the PCC presidents ever since the Andhra Pradesh Congress (APCC) was formed in 1956. For the first time, party disowned three of its leaders and erased theie memories from the Gandhi Bhavan. Rao and Reddy  accused Srinivas of collecting money from the candidates while distributing the B-Forms.
"He( D Srinivas)  claimed that he had distributed 294 B-Form to candidates in various elections during his tenure as PCC president. Can he deny the fact the many candidates had to grease his hands to get their B-Form legitimately," VH said.
Though he corned many posts claiming himself a BC leader, they accused, D Srinivas had never encouraged any BC leader.
" DS' crossing over to TRS will not affect  the Congress in any manner," they said.