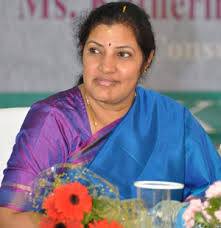 Two Telugu leaders, one from Andhra Pradesh, the other from  Telangana, have been given national assignments by BJP leadership. While new comer, D Purandeswari is appointed in-charge of Bharatiya Mahila Morcha, senior leader Muralidhar Rao will look after Bharatiya Yuva Morcha.  Incidentally both are from ruling communities, Kamma (Purandeswari) and Velama(Muralidhar Rao).
What surprises many is Purandeswari's elevation to the national level. During entire UPA tenure, she was a minister and Congress leader. She opposed the division of Andhra Pradesh and quit Congress only to join BJP which was a staunch supporter of the division.
Is there anything more than what meets the eye in the projection of Purandeswari, daughter of TDP founder NT Ramarao?
Purandeswari has been a successful parliamentarian ever since she entered the Lok Sabha in 2004. Her rise in New Delhi was quick for two reasons: one-she is a daughter of NTR and arch rival to brother-in-law N Chandrababu Naidu, and two- her articulation and affable nature.
What would be the game plan of BJP in promoting Purandewari to national level? Would she be the chief ministerial candidate of BJP in Andhra Pradesh in case the BJP and TDP fall apart in in the state?  Or is it a ploy to remove her from state to please TDP chief minister Naidu? She is  one leader to be watched out in Andhra Politics.
Muralidhar Rao, an alum of Osmania University, is influential leader, like Ram Madhav, in RSS. Till assigned BJP, Rao was in-charge of Swadeshi Jaganran Mach. Known for intellectual understanding, articulation and commitment, Rao has been given very important assignment by BJP president Amit Shah, to organize youth toward' Modi's BJP.