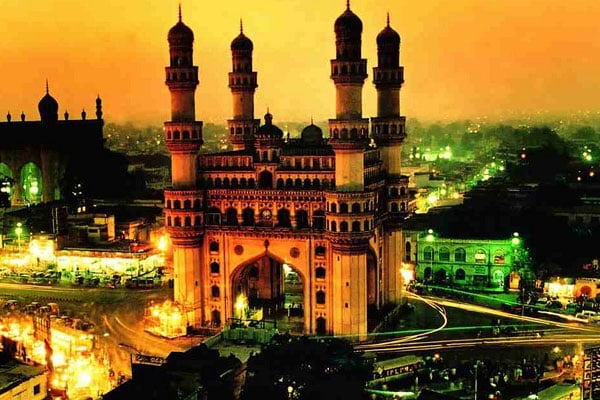 Those who are planning to visit Hyderabad from the US, Canada or nearby Gulf countries in the next few days are hereby warned, expect the unexpected when you land here.
As the clock is ticking for the mother of all summit conferences as as far as Telangana is concerned, it is turning both the state government and Hyderabadis crazy.
First, of course, the traffic that has already gone out of control with road blocks, traffic curbs and detours. Though people have hailed the sprucing up of certain sections of Hyderabad, for the November 28-30 Global Entrepreneurship Summit, hours of sitting behind the wheel on roads is enraging commuters.
Adding to this chaos, is an expected one lakh marriages (yes, 100,000) in a matter of one week beginning now. With thousands of friends and relatives from within the Telugu states and abroad descending on the city by every available flight, train, bus and personal transport, Hyderabad is now choc a bloc 24X7.
Second, security. With several rings of security — state, Central and American – residents living near and around areas Ivanka to visit/stay have been told not to entertain strangers or guests in view of high threat perceptions to VVIP.
Not minding the inconvenience being caused to the people, the KCR government has finalized arrangements for royal treatment to Ivanka Trump, daughter of US President Donald Trump and his special adviser.
Though the Nizam era is gone, Ivanka is going to get such royal treatment in a democratic state. She will be treated to a state banquet at the famous Faluknama Palace where she will sit next to Prime Minister Narendra Modi who will inaugurate the Metro (officially confirmed) on November 28. On the same day, he will address the Entrepreneur Summit along with Ivanka.
Then, the gifts to be presented to Ivanka too are befitting royalty. If press reports are to be believed, the gift hamper contains a cut diamond necklace, strands of Hyderabadi pearls, hand woven silk sarees from Gadwal and Sircilla, all packed in a special box.
And, finally, after sending street beggars to prisons or rehabilitation homes, it is the turn of stray dogs. Hundreds of them are being rounded up!
Telugu360 is always open for the best and bright journalists. If you are interested in full-time or freelance, email us at
Krishna@telugu360.com