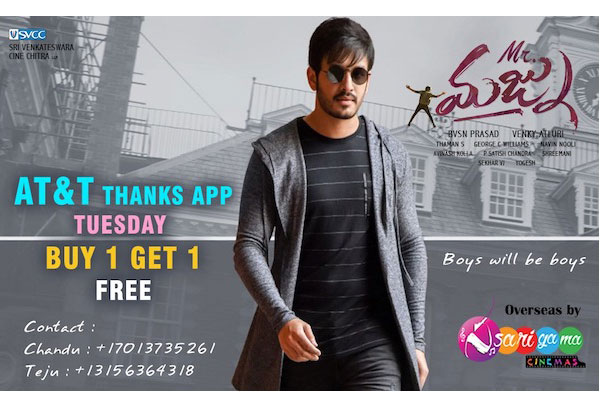 Watch 'Mr Majnu' A Romantic & Comedy Family Entertainer with AT&T BOGO OFFER.
BUY 1 GET 1 FREE TICKET FOR ALL CUSTOMERS.
Offer available for all CINEMARK, REGAL and other theatres available on AT&T Thanks App – Ticket Twosdays.
To Redeem Offer:
Step 1: Install AT&T Thanks App
Step 2: Login to your App and you see your offers on home page
Step 3: Click on Ticket Twosdays offer and land on offer page
Step 4: Click "Get Tickets"
Step 5: It will default to your Zip Code. For your needed location, change Zip Code on below clicking green icon next to AT&T.
Step 6: Click on the Theatre Name link playing Mr Majnu movie
Step 7: Pick the Showtime you want and add 2 Tickets to cart.
Your discount will be shown, and you will be charged for 1 Ticket. Enjoy the Movie!
AT&T BOGO Eligible Theatres: Cinemark / Regal / 8k Cinemas / Others.
Distribution Contacts: sarigamacinemas@gmail.com
CLICK HERE!! for USA Schedules.
Press release by: Indian Clicks, LLC