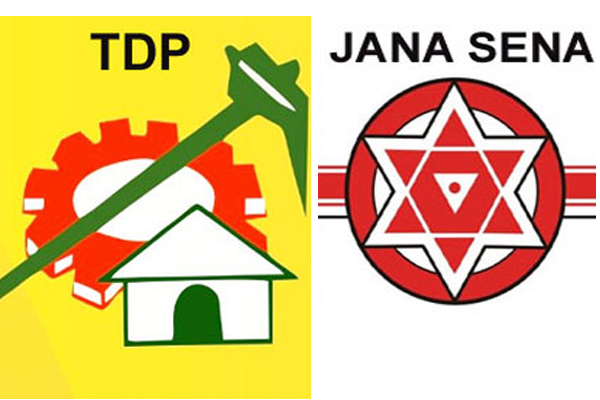 KCR announced dissolving of the government and most of the candidates contesting from his party. Suddenly Telangana politics became so hot and everybody discussing various aspects of this decision of KCR. One such debate is, in what way this elections actually help Janasena and Telugu Desam Party that have more stakes in Andhra rather than in Telangana.
TDP is almost confirmed to have an election alliance with Congress party in Telangana. TDP and Congress were arch rivals for last 35 years and they are allying for the first time in Telangana. KCR decision of early elections actually helps TDP in a way that it now has time to test the experiment and see the results. Had KCR not announced this decision, probably Chandrababu would have experimented this in 2019 elections simultaneously in Andhra Pradesh Assembly Elections , Telangana assembly elections and general elections of India. The outcome of this experiment is difficult to predict and so, it's kind of a risk for CBN. Because, on the one hand both TDP and Congress are now anti BJP and both have mutually complimenting strengths i.e. in Telangana, Congress is strong party while TDP has some cadre that is called as sleeping vote bank. At the same time the situation is vice versa in Andhra Pradesh. But, on the other hand, TDP has its foundation on anti congress philosophy. Already political opponents and some common people keep pointing that Chandrababu has diluted the principles TDP on which NTR founded the party. Now if he allies with Congress he will have to face strong criticism on this again. So this has both pros and cons. But Telangana elections has given Chandrababu an opportunity to test the experiment and see the results.
If this experiment is successful like Samajwadi Party and Bahujan Samajwadi Party combination in Uttar Pradesh against BJP, he can continue the same experiment in Andhra Pradesh elections as well as 2019 general elections. However, if the experiment fails to get expected results, he will still have 6 months to either refine the strategy or completely discard it. So in both ways it will actually help Chandrababu, because in any case he doesn't have much expectations from the party in Telangana.
Janasena party also has one advantage because of this early elections. Janasena party progress is like sine curve with party getting good response when there is some interesting activity and at other the times it gives an impression that the party is still in its baby steps. Because of this early elections in Telangana, Janasena party that doesn't have stakes in Telangana will be benefited in a way that the party will be able to get its election symbol during Telangana elections and will have ample time to take the symbol into the people for AP elections. During PRP time, fans of the party were very tensed until last moment ,as many TV channels and media houses ran the stories that PRP may not get common symbol and each of the MLA may have to contest on different symbol like an independent candidate. Even though the party got the common symbol in the last minute it didn't have much time to take the symbol into the people. So now, during this Telangana elections even if Election Commission refuses to give Janasena a common symbol because it is just a registered party but not recognised party, EC must give the common symbol during AP elections if the party gets reasonable votes in Telangana elections.
Also the novice party will have its first elections faced in Telangana 6 months before AP elections. The experience in this elections will definitely help the party refine its electioneering strategies for AP elections. At the same time even if it loses in all the seats in Telangana it doesn't do any damage to the party in AP, because the party is primarily focused in AP because of social equations.
So KCR's decision in a way actually helps these parties for their next AP elections.