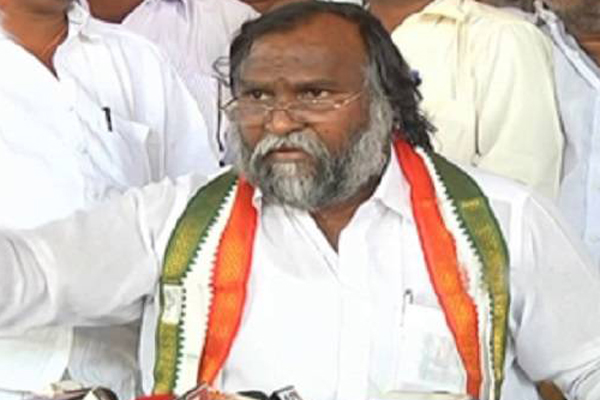 Hyderabad: Jagga Reddy, Congress MLA from Sangareddy constituency, has been very soft and cordial towards TRS party and Telangana chief minister K Chandrashekhar Rao. Reddy used to be very aggressive in criticising KCR and TRS party until Assembly elections held in December 2018. However, ever since, he won from Sangareddy Assembly constituency, Reddy has been amicable towards the pink party.
Interestingly, Reddy is targetting former minister and Siddipet MLA T Harish Rao. "KCR is a sincere chief minister, but Harish Rao is a blackmailer. I have personal differences with Harish Rao. Harish Rao was behind my arrest. I don't have any dispute with KCR family. I just made political criticism only, nothing personal. I became MLA for the first time on TRS ticket. I was benefited twice because of KCR only. Later I joined Congress. I have brought my daughter into politics, when I was in jail."
Jagga Reddy seems to be vexed with the lobbying politics in Congress as he said that he was not keen on power politics. "With a lot of commitment, I had worked for 35 years to reach higher positions in politics. But, I lost this spirit because of lobbying tactics in Congress. Only lobbyists are in limelight in Congress. I like Rahul Gandhi, so I'll never leave Congress party. Congress party should support leaders suffering from financial problems. Over 75 per cent of Congress leaders are in financial crisis," added Reddy.
Jagga Reddy is known for his strong criticism and never believed in getting Telangana statehood. Reddy even owed to quit politics if Telangana becomes a state. Of course, after Telangana became a reality, he changed his voice and continuing in politics and became MLA as well.