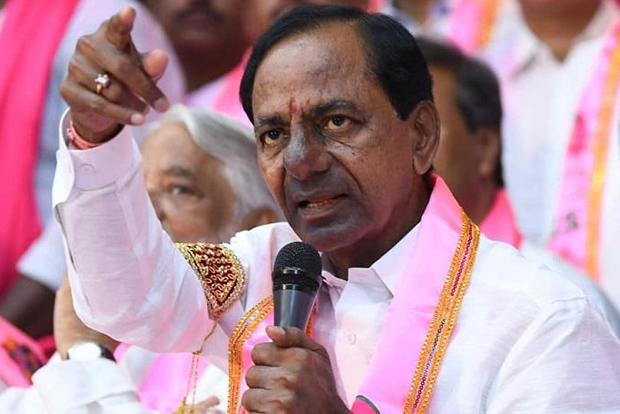 Hyderabad: Unlike his previous speeches, TRS supremo and Telangana chief minister K Chandrashekhar Rao has changed his poll campaign strategy and for the first time he played Hindu card. This is totally against KCR's style of functioning as he always projected himself and his party as secular and Telangana statehood with national patriotism, observed a senior political analyst. May be this is to check BJP vote bank after the recent surgical strikes on Pakistan, he opined.
With an objective of clean sweep in Lok Sabha elections in Telangana by bagging 17 MP seats including one Hyderabad seat by AIMIM, Telangana Rashtra Samithi (TRS) is targetting BJP and Congress. In his recent public meeting at Karimnagar, KCR criticised BJP as it's acting as a sole representative of Hinduism, while asserting that there're no Pakka Hindu than himself. KCR further claimed that no one in the country performed 'Havans' than him.
"Playing this Hindu card is nothing, but checking BJP from gaining vote bank in Telangana after surgical strikes on Pakistan. The positive image for BJP and Prime Minister Narendra Modi across the country is gaining. Observing this, KCR might have said he's the Pakka Hindu. On the other side, KCR is also attacking Congress, while highlighting that this grand-old party can't get over 120 seats. If TRS wins 16 MP seats in Telangana, KCR assures mobilising support of 160 MPs at the Centre. By saying so, KCR is assuring Telangana voters to cast their votes for TRS in Lok Sabha polls, while diluting role of BJP and Congress," explains the analyst.
Telugu360 is always open for the best and bright journalists. If you are interested in full-time or freelance, email us at
Krishna@telugu360.com