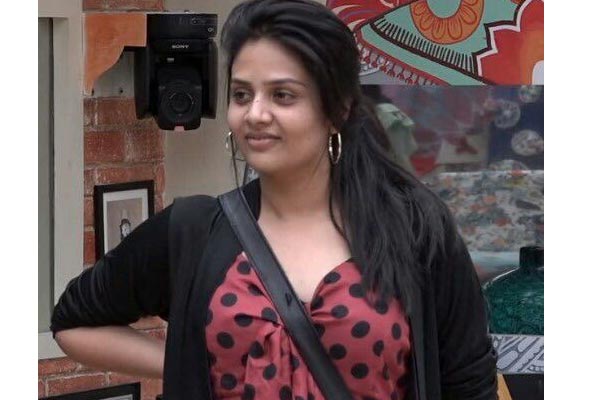 It is season 3 of Bigg Boss in Telugu. In both the previous seasons, Bigg boss gave the title to male contenders despite female contestants giving a very strong fight. 
Hari Teja:
Whenever somebody talks about Bigg boss Telugu season 1,  the three names people recall is Jr NTR, the host of that season, Shiva Balaji, the title winner, and Hari Teja, the contestant who won the hearts of people. The way she entertained the house is still talked about and her 'burra katha' episode became blockbuster and director Anil Ravipudi used that episode again in 'Raja the great' movie. She was the one who entertained the most in season 1. No other contestant left such a huge mark in the mids of people in that season. When many thought she will be the title winner, suddenly Shiva Balaji emerged favorite during the last couple of weeks because of some different reasons. Hari Teja had to adjust to 3rd place.    
Geetha Madhuri:
Bigg Boss Telugu Season 2 became Kaushal vs rest of others because of the sympathy factor on Kaushal. Kaushal played a different game and strategically targeted the housemates and made them negative. Influenced by his game, his army and his fans even abused female contestants in social media and Geetha Madhuri was the one who got the most vitriol on social media from Kaushal fans. When an elderly lady, a fan of Kaushal, abused Geetha Madhuri, Nani had to pitch in social media.
Click here: https://twitter.com/nameisnani/status/1035852416590209024
Geetha Madhuri displayed extraordinary courage to confront Kaushal despite knowing how his army was behaving outside the house as re-entry contestants and wild card contestants gave some clues. Also, she played secret tasks near perfectly. But all her efforts went vain as Kaushal army was a big force at that time. Geetha had to adjust to 2nd place in that season. 
Sreemukhi:
In season 3, Sreemukhi became the sole female contender to reach the finale. Undoubtedly, she has played the game with near perfection and she gave lots of entertainment in this season. Obviously, she is the contestant with a good IQ and she was seen explaining the tasks to others. Even Rahul, her rival in house, told that she helped him with correct lyrics for 'pedave palikina' song. Vitika told that Sreemukhi helped her while preparing for weekend performances. Even though she has been helping others in their performances, in addition to giving her best, the audience still doubts whether Bigg boss will give the tile to Sreemukhi or not. 
Other Languages:
In Hindi, 6 out of 12 times, female contestants won the title. In Tamil, the female contender won the title in 2nd season. However, in Telugu female contenders never won the title. We will have to wait and see whether Bigg boss season 3 title will be won by a female contestant or not.