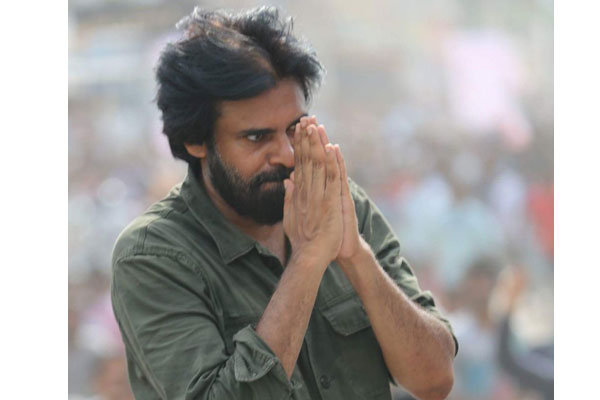 Pawan Kalyan is currently doing his political tour in North Andhra and getting terrific response from people but his speeches are not getting telecast in TV channels as before. Earlier even if Pawan Kalyan tweets a small line there used to be huge coverage for that tweet and there used to be discussions on that tweet in channels. But things changed later. Ever since Pawan Kalyan waged war with TV channels through his Twitter, TV channels also stopped giving coverage to Pawan Kalyan and his political activities. Now Janasena cadre and his fans are feeling that difference and pressurizing party leadership to start a news channel.
99TV, JTV, 10TV and Tulasi TV:
Since last couple of months, there have been rumors that Pawan Kalyan is also contemplating to have his own news channel. Initially there were rumours about Pawan Kalyan taking over 99 TV. As per reports, Pawan Kalyan team did approach 99 TV but later the backed out because of some technical reasons. Then there were rumours about Pawan starting completely new channels with the name JTV but there was no information on that later. Recently, there have been rumours on Pawan's team approaching 10 TV. This channel is partially owned by communist leader Tammineni Veerabhadram and partially crowd funded. As Pawan is sailing with communists, it seems the communist leader also was willing to offer partnership to Pawan. Social media is agog with rumours on Tulasi seeds owner Tulasi Ramachandra Prabhu coming up with his own news channel. In fact he already has licence and satellite bandwidth for a news channel since more than 5 years. It is known news that Tulasi Ramachandra Prabhu contested through Chiranjeevi's PRP and lost elections in 2009. Currently Tulasi family is actively participating in Janasena activities
Nimmagadda, Chiranjeevi and 10TV:
Recently the rumors intensified about this topic and as per the grapevine, industrialist Nimmagadda Prasad, also known as Matrix Prasad, is investing in 10TV and the discussions are going on. Added to this, another rumor is that Chiranjeevi himself involved in this and is trying to strike this deal with 10 TV through the Nimmagadda Prasad. It is known news that Nimmagadda Prasad, Chiranjeevi, Allu Aravind and Nagarjuna were partners in Maa TV earlier which was sold to star group later.
Can't do politics without News channels in Telugu states?
Whether all these rumours ,that – one, Pawan Kalyan taking over or starting a news channel, two -Nimmagadda Prasad investing into 10 TV on behalf of Pawan or Chiranjeevi, three -Chiranjeevi and Allu Aravind supporting Pawan Kalyan in taking over news channel through Nimmagadda – are true or not, one thing is for sure, that AP people believe without having own channel, it would be difficult for Pawan Kalyan to make his mark in AP politics. In fact, Chiranjeevi fans attribute lack of channel as first reason for the debacle of PRP in elections. So, without support of media it is still difficult to do politics in Telugu States no matter how much presence you have in social media. Small and urban states like Delhi politics might be controlled using social media, like Kejrival did, but in bigger states like AP that have several 'rural' constituencies, it is difficult to reach all the voters through social media and so news channel is probably mandatory in states like AP. In the neighbouring Tamil Nadu, almost each and every political party has their own news channel – SUN TV and Kalaingar TV for DMK, Jaya TV for AIADMK, Captain TV for Vijaykanth, Makkal TV for Ramadas's PMK and Velicham TV for Tamila manila Congress. In AP too, TDP has many channels supporting it and YSRCP has it's own channel. Probably this fact is now understood by Pawan Kalyan.
Will it be ready by August 14th?
Earlier Pawan Kalyan announced that his party manifesto will be released on 14th of August. He made this announcement on 14th March during Janasena party foundation day. So, now there has been debate in political circles whether Pawan Kalyan will be ready with his news channel by 14th August at least. Because even if they get a channel, they need sometime to take it to people and the early they start taking their party activities and news to people, the better prospects they will have in 2019 elections. Will come to know answer for this in a month time.
-ZURAN