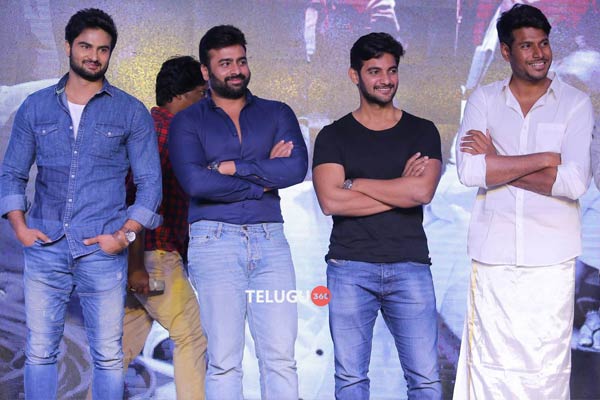 Actors Sudheer Babu, Sundeep Kishan and Aadi say working on forthcoming Telugu multi-starrer crime-thriller "Shamanthakamani" was fun and at the same time kept the competitive spirit in them alive.
Directed by Sriram Adittya, the film's story is centered on a car and it features Sudheer, Sundeep, Aadi and Nara Rohit in the lead.
On the experience of working together with three more heroes, Aadi said all of them have equal screen space.
"It never bothered us who will have more screen space. Each character has its highs and lows and there are plenty of moments for each of us to shine. Instead of worrying about whether each of us will have ample screen space, I was more concerned about my character," Aadi told IANS.
He wanted to be sure of whether he can do justice to his character.
"I had to be sure if it was a suitable character for me. I remember asking Sriram if this is what he wanted me to do because I wanted to be sure if I can deliver. By bringing us together, I believe we only became competitive," he said.
Sudheer Babu says it's a script written for the characters and not for heroes.
"When you try and place a hero in a certain character, you will find it challenging. This is a script written for the characters and not for the actors. When Sriram approached me with the script, I wanted him to choose the role that he thinks would be apt for me," Sudheer said.
Last seen in "Baaghi", Sudheer did initially feel apprehensive about the idea of a multi-starrer at this stage in his career.
"After 'Bhale Manchi Roju' and 'Baaghi', where I had scope to shine individually, I asked myself why a multi-starrer now. I wondered if the idea will work. But when I heard the script, I was totally blown away," he said.
Sundeep said each of the characters has a purpose in the film.
"Each one of us knew what is expected of our character. We had a ball working together because all of us have been friends for a long time. There was absolutely no room for ego on the sets," Sundeep said, adding the camaraderie between them was quite evident even off the sets.
Sundeep added, "All of us will gain something from this film."
Produced by Bhavya Creations, the film is slated for release on Friday.