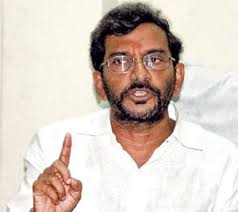 TDP leaders who are reacting on cash-for-vote scam are not only making statements that are confusing and contradictory but even funny at times.
It is known how Parakala Prabhakar and Yanamala Ramakrishnudu gave contradictory statements on the issue.
Then entered Chandrababu Naidu into the scene who said that KCR's Government will fall if he's arrested. This line not only sounded funny but illogical. While Telangana Government or KCR didn't send any signals of arrest, it was Chandrababu who spoke his heart out with a national news channel.
Now, Somireddy Chandramohan Reddy went an extra mile and made a sensational statement that can apparently put party and him in serious trouble.
Taking on TRS party vehemently, Somireddy alleged that TRS was obstructing the bail of Revanth Reddy. How can a political party influence the court? Doesn't he know that the Constitution of India facilitates independent and integrated judiciary? Is he trying create doubts among the people on the functioning of courts?—these are a few questions that are being discussed among lawyers who gather at tea stalls outside courts.
Legal experts said that Somireddy can face Contempt of Court for his alleged statements that are rival on the electronic media.