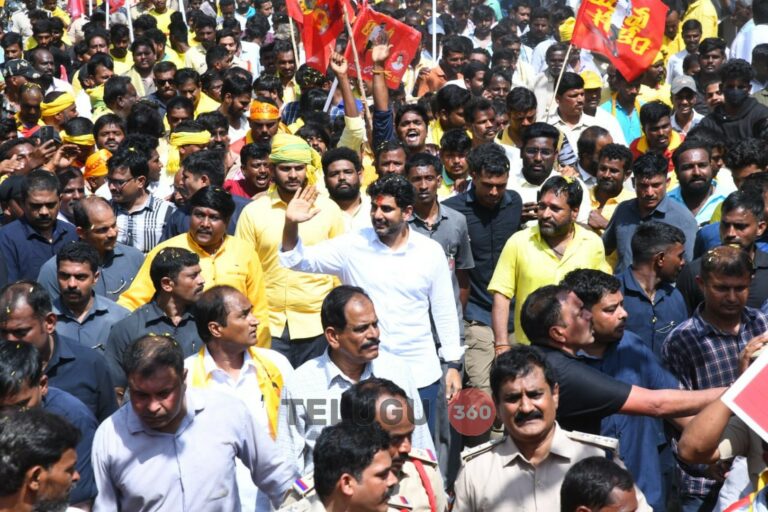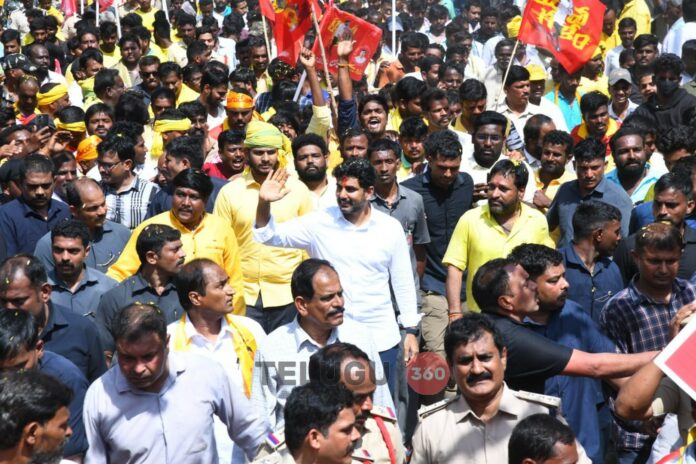 Telugu Desam Party (TDP) general secretary, Nara Lokesh, on Friday started his pada yatra 'Yuva Galam' with the sole aim of ending the atrocious rule of Chief Minister, Jagan Mohan Reddy.
Lokesh offered special poojas at the temple of Lord Varadaraja Swamy in Kuppam and also offered prayers at the local churches and masjids. He took the blessings of the elders before taking his first steps for the 4000 kilometres long marathon walk.
With thousands of party activists accompanying him, Lokesh launched his 4000-km-long pada yatra exactly at 11.03 am which is going to create a history in the State. The party functionaries showered flowers on Mr Lokesh wishing him all the best in his endeavour.
Lokesh's father-in-law and Tollywood hero, Bala Krishna, TDP AP unit president, K Atchen Naidu, party politburo members, thousands of party cadre walked along with Lokesh.
Women activists offered harathis to give a grand welcome to the party general secretary and the locals of Kuppam raised slogans like 'Chandranna Bidda (Son of Chandrababu Naidu) zindabad'. The Kuppam citizens expressed their complete solidarity with Lokesh and wished him a grand success.
He visited Mecca Masjid at Lakshmipuram and later Hebrass House of Worship Church at Bapunagar where he offered prayers and took the blessings of the community elders.
People and party functionaries are seen gathering in large numbers to wish Lokesh a resounding success in his pada yatra 'Yuva Galam'.