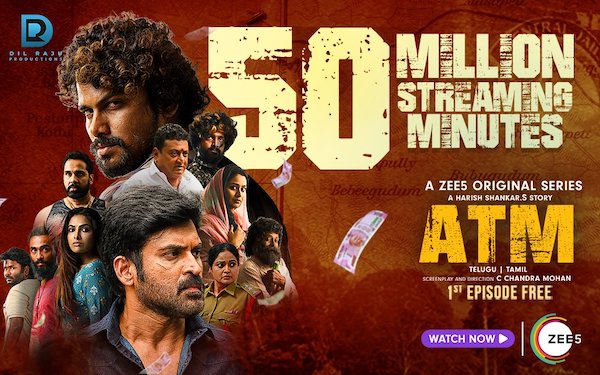 ZEE5's 'ATM' has been going great guns. The January 20th release has already registered an astronomical 50 million streaming minutes in less than a week. After a handful of superhit Telugu-language web series, ZEE5 is glad that its heist drama thriller is reigning supreme.
Starring VJ Sunny, Krishna, Raviraj and Roiel Shree as leading men, 'ATM' has Subbaraju as a gutsy cop. His arrogant and no-holds-barred attitude raised the stakes. After his entry, the web series becomes thoroughly engaging. Coupled with Harish Shankar's writing, 'ATM' is a treat.
The 'Gabbar Singh' and 'Gaddalakonda Ganesh' director is the show's story-writer and showrunner. His creative stamp is clearly visible all over.
Then there is the climax. The startling and unexpected introduction of the fifth thief combines thrill with anticipation. The second season of 'ATM' surely has got a commendable lead. It will be interesting to see which actor will play the fifth man.
Producers Hanshita Reddy and Harshith of Dil Raju Productions are happy with the response. Prudhvi's political character, Divya Vani's cop character and the romantic tracks (Divi Vadthya's lip-lock has been talked about) have been appreciated by everyone.
CLICK HERE!! to stream "ATM" on ZEE5 Telugu.
Content Produced by Indian Clicks, LLC