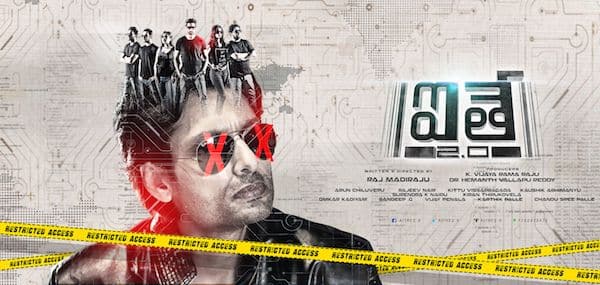 Aithe 2.0 Team wishes Happy Ugadhi to you and your family and may the new year bring happiness and success to your family.
Aithe 2.0 is Written and Directed by award winning Director Raj Madiraju of Rushi fame produced by Hemanth Vallapu Reddy and K. Vijaya Rama Raju under FIRM 9 banner.
"Aithe 2.0" is all set to hit the screens on 16th March, 2018. The film starcast includes "Kahani" fame Indraniel Sen Gupta and "Life is Beautiful" fame Zara Shah and supported by talented artistes Abhishek, Karthavya, Mrunal,Neeraj and Mridanjali.
Three things can turn a common man into a criminal… This is the story of four such unemployed Engineers who in spite of being brilliant in their ownsubjects, cannot fight the circumstances and turn criminals to take revenge on the most dangerous yet the most anonymous cybercriminal in town.
Popular guitarist Arun Chiluveru who worked under MM Keeravani, Mickey J Mayer, SS Taman, Anup Rubins, has composed music for the film. Singers Naresh Iyer, Dev Negi and Rockstar Rituraj Mahanti gave their voices to three melodious songs. Songs are already out and creating a huge buzz.
Click Here!! for the Trailer.
The technothriller has toured the world and been selected as official entry into several International Film Festivals viz., Los Angeles Cinefest 2017, San Mauro Film Festival 2018, Movie Nisville Summit, Barcelone Planet Film Festival 2017 and Calcutta International Cult Film Festival 2017.
The film has been a semi-finalist in Los Angeles and San Mauro while it went on to win the festival's "Best Narrative Feature Film" award at Calcutta.
The film has been viewed by over 5000 delegates and a hundred judges and earned accolades such as "Spine-Chilling Drama", "New-Age Thriller" and "Outstanding Achievement" by the festival committees.
If you are interested to exhibit this film in your locations, feel free to reach out to us:
Call or What'sApp:
@
Hemanth: +1 (316) 308 6462
Vijaya Rama Raju: +91 9391000408
Email: Aithe2.0film@gmail.com
Press note released by: Indian Clicks, LLC