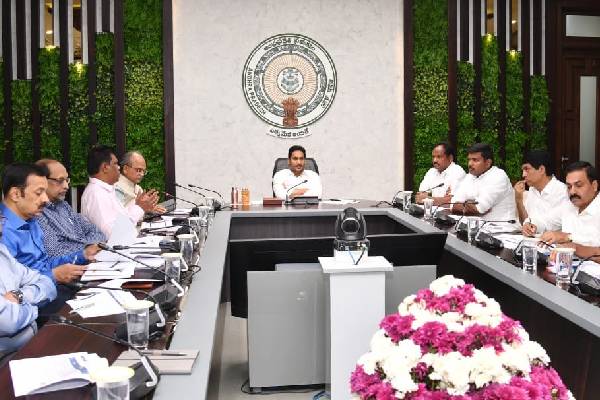 The AP State Investment Promotion Board (SIPB) cleared a chain of investment proposals for establishing several heavy industries in the State.
Chief Minister YS Jagan Mohan Reddy, who presided over the SIPB meeting on Tuesday, directed the officials to take all necessary steps to stand by the industrialists and investors and ensure that all projects are launched within the stipulated time.
He told them to ensure that 75 per cent of the jobs in all emerging industries are given to locals as per the law enacted and directed the officials to set up a state-of-the-art IT Park at Bhogapuram in an area of 90 acres. The following proposals were cleared by the Board.
Avisa Foods and Fuels would establish a Rs 498.84 crore ethanol manufacturing unit at Mallavalli Park in Krishna District to provide employment to 3300 persons directly and indirectly. The work is proposed to begin by June and complete in one year.
Andhra Paper Mills at Kadiyam will go for an expansion with an investment of Rs. 3400crore. The expansion would be completed by 2025 and would provide direct employment to 2100 persons.
NTPC would set up New Energy Park at Pudimadaka in Anakapalli district with a total investment of Rs. 1,10,000crore in two phases with each phase receiving an investment of Rs. 55,000 crore. The park with employment opportunities to 30,000 and 31,000 persons would be completed by 2027 and 2022 respectively.
Electro Steel Casting Ltd would set up two factories at Sri Kalahasti and Punganur to manufacture Ferro Alloys and DI pipes with an investment of Rs. 1087 crore providing direct employment to 2350 persons and would be completed by December 2023.
The Accord Group would set up a factory at Ramayapatnam with an investment of Rs. 10,000 crore and provide direct employment to 2500 persons. The factory work will begin in May 2023 and be completed by June 2025.
Vizag Tech Park Ltd would establish a 100 mw Data Centre at Kapuluppada in three years with an investment of Rs. 7,210crore by setting up a 10 MW capacity unit in the first phase. This will provide direct employment to 14,825 persons and indirect employment to 5,625 persons. This is in addition to the 200 mg data park which is already coming up.
Wing Tech Mobile Communications India Pvt Ltd would set up a unit at Tirupati to manufacture semiconductors and optical modules with an investment of Rs. 1489.23crore which will provide employment to 15000 persons.