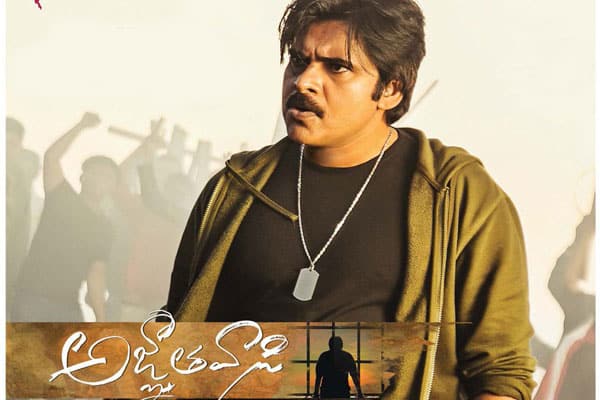 "Why is he doing this to us? If he is not interested in movies and he is interested only in politics, he should stop doing movies and plunge into politics rather than giving us this kind of movies. Why is he wasting his time and our time with this kind of movies" , yelled a highly disappointed fan while walking out of the theatre after watching "Agnyaathavaasi" movie on day-1. This highly anticipated movie turned out to be a disaster because of serious screenplay issues that were discussed in part-1 of this article (https://www.telugu360.com/agnyaathavaasi-pawan-kalyan-one-lost-translation-another-transformation-part-1/). In this part-2, let's focus on "Pawan Kalyan" and see what he is up to and where he is lost.
Most of the fans who shelled out hundreds of rupees, if not thousands, on special shows felt the same and were highly disappointed with not just Trivikram but also their favourite star Pawan Kalyan. They were wondering why did Pawan accept such movie? What he was doing during the daily shoots? Did he completely leave it to Trivikram and he focused on politics? Movie was sold for such high prices and is it not his duty to ensure the quality of the film. Those highly disappointed fans have many more such questions. But all the questions boil down to one point – "He is not interested in films". During Khushi time, it was his passion for movies that was lauded by fans and film celebrities alike. Where did he lost it then?
Forget about PK fans, they may forget the pain in a few days but what about the losses to distributors. Probably, they will remember this film for many years to come. There is huge drop in collections (https://www.telugu360.com/agnyaathavaasi-day2-ap-ts-update-heads-disaster/). There is a logic that some people say regarding distributor losses – that it is business and if there are more profits, these distributors wont share them back to producer, so in case of losses also the same distributors have to bear. But one has to remember such logic will hold good if the movies are sold for "rational" prices. When the movies are sold for astronomical amounts, such logic doesn't hold good and eventually the distributors will come out asking Producer or even Pawan to compensate their losses.
Even from political opponents too, definitely he is going to face the question in near future that "What justice did you do to the distributors who lost by buying your films. Before attempting to do justice to others, first do justice to the families of distributors and buyers of Agnyaathavaasi movie". There is one more issue with Pawan's politics and his movies. Pawan has always been selective on the issues he responds. He responded on issues like DCI, Uddhanam etc but there are several issues on which he did not respond. Janasena sources or his fans say "He did not respond at that time because he was busy with shooting of his movies". Now the fans are accusing Pawan Kalyan for focusing more on politics and not doing justice to the movie.As a Hindi saying goes, "Dhobi ka kutta, na ghar kaa na ghat kaa" – his part time politics seem to be affecting his movies and his part time movies seem to be affecting his politics. Isn't it a high time for him to stop sailing on two boats and focus on one field? Did he "lost in transformation" from movies into politics.
Above are the questions from fans, distributors and political opponents. Let's analyze them. Flops are not new to Pawan. Khushi released in 2001 and Gabbar singh in 2012. In these 11 years, he released 9 movies and except Jalsa, that was between "above average" and "Hit", remaining 8 movies are all duds at box office. Films like Bangaram, Puli and Teenmaar are disasters. He was not in politics at that time and he still faced too many flops. So the argument that he is "lost in transformation from movies to politics" doesn't completely hold waters. But let's dig little more. In last 3 years, he did 4 films – Gopala Gopala, Sardar Gabbar singh, Katamarayudu and Agnyaathavaasi. Except Gopala that was made on reasonable budget all other films brought huge losses. 2 out of these 4 are remakes. Moreover, Katamarayudu movie was remake of "Veeram" and Veeram was already dubbed into Telugu and was even telecast in Telugu TV channels several times before the release of Katamarayudu. So again remaking such movie and selling it for high prices- was it irresponsibility or overconfidence? Were there no other stories in Telugu or Pawan didn't have time (because of politics?) to look into them and he accepted that remake story? Ok, doing remake is not wrong thing. But there is some work involved in that – like buying remake rights, and making proper agreements, ensuring dubbing version of it not releasing and not telecast in TVs. Without sparing anytime for this background work and doing the movie and expecting huge returns – must be either irresponsibility or overconfidence. Moreover, Pawan always gave an impression that he doesn't have money and he needs some quick money for his political activities as he doesn't want to depend on other politicians for that. Honesty appreciated. But for that quick money, just remaking some Tamil movie with a cheap budget and selling it high is definitely not a right thing to do. Especially for someone who claims he is an honest person and honest politician. Same honesty is expected in film selection and film making too. There is no clarity on his next film yet. Some say he will stop here (until 2019?). Some say Mythri makers movie (director Santhosh Sreenivas of Rabhasa fame and Tamil film "Theri" remake) and AM Ratnam's movie (director Nesan of tamil movie "Jilla" fame and "Vedhalam" remake) are still in discussions. If any of these movies materialises, definitely it will give impression that he doesn't have either time to listen and select good scripts or the patience required for that. And if his "busy" schedule with political activities (background activities) is cited as reason for that, it will give conclusive evidence that he is "lost in transformation". It is not the "events" -that films becoming hit or flop – that is giving the impression that he is "lost in transformation" but the process he is following for selection of movies (buy a remake, hire a not-so-expensive director, make movie with low budget, sell it for high) and leaving the film to director or producer without checking what is going on (Agnyaathavaasi) is what is giving impression that he is "lost in transformation".
Most of the stars have very good story judgement. Take Chiranjeevi or Amir Khan or any other super star. Contrary to the popular opinion that it is their acting or dancing or other skills, it is their story selection and success ratio that keeps a star on top chair. Even Pawan showed this trait in the beginning days of his career. "Toli Prema" movie directed by debutante Karunakaran was rejected by more than 50 production houses before accepted by Pawan. Tammudu, Badri and Khushi all proved his passion as well as his story judgement ability. But somehow he lost that ability it seems. Sometimes we hear the word "Vintage Pawan" when we get to see his histrionics similar to what he did in Tammudu or Khushi movie. But Vintage Pawan is not the one who does some feminine histrionics or sings some folk songs but the one who was able to judge the stories like Tholiprema, Tammudu, Khushi and Badri and gave chances to debut directors by believing in the story. It seems, somehow, that Vintage Pawan Kalyan is "lost in the transformation" long back!!!