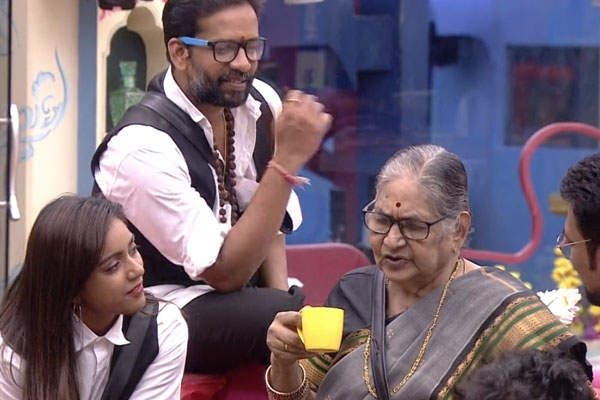 Varun, Rahul and Sreemukhi's family members joined the house today and all of them entertained the audience in this episode.
Varun's grandmother steals the show:
Varun's grandmother who entered the house today almost steals the show. Her oneliners went viral, immediately after the release of the promo. She said she is feeling as privileged as the host Nagarjuna when housemates served her Tea. She also asked Bigg boss to at least send a photo of himself to her house. She wished the housemates a happy Diwali and when housemates asked when is Diwali, she cleverly replied without revealing the dates. She advised Varun to do some performances like dance or something in next week. It is a known thing that Varun did not do any great performances yet in the house.
Rahul's mother's advice to him:
Rahul's mother Sudh Rani entered the confession room of the house when all the housemates are in power save mode. She spoke from the confession room asking Rahul to come to her. Some of the housemates could see her on the TV but Rahul could not. After Bigg boss released from 'power save' mode, Rahul met his mother and she spoke very well without crying. Rahul evoked a few laughs by saying housemates are wondered about the fair complexion of his mother while he is dark in complexion. She advised Rahul to play well in the tasks in the next 2 weeks. It is known news that Rahul never performed excellently in any task to date. She also asked him to dance during wake up song. It is known news that only Baba Bhaskar and Sreemukhi were consistent in waking up early and dancing in the garden.
Sreemukhi cried a lot after seeing her mother:
As soon as Sreemukhi's mother entered the house Bigg boss ordered Sreemukhi to go in power save mode and after a couple of minutes, Bigg boss asked her to leave the house that made Sreemukhi shed lots of tears. Later she was made to enter the house again. She told, she is proud of her daughter as she is playing the game extremely well and performing the dances. She appreciated Sreemukhi for not retaliating even when other housemates are targetting her with sharp words. She asked Rahul to be friendly with Sreemukhi but not to fight with her as their altercations hurt parents of the both contestants. Rahul also agreed with her.
Overall, it was an enjoyable episode.