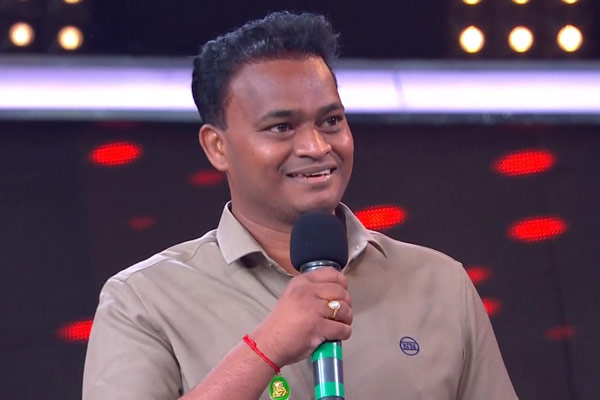 Bigg boss season-2 started yesterday and this time, they have introduced new feature in the show wherein even some "common people" also can join the bigg boss house as contestants. Out of total 16 contestants, there were 13 celebrities and three from "common persons" category – Sanjana (Model), Ganesh (radio jockey) and Nutan Naidu.
Nutan Naidu joined as one of the three "common men" contestants in the house. He came in 'Khakhi' dress and introduced himself as social worker. When asked about the reason for the color of dress, he told it is symbol of 'labor' and 'manual work'. He had 'NN' on his shirt and revealed that it is not brand of the dress but NN means himself i.e. 'Nutan Naidu'.
He joined the show in 'common man' category, but after seeing his profile, he doesn't look like a common man really. He contested as MLA from Jai Samaikyandhra party. While contesting as MLA in 2014 elections, he himself explained his bio-data. As per that video, he studied in government college and was student leader since college days. To be precise, he was SFI (Student Federation of India) leader. Then he worked in multi national companies and has even gone to foreign countries(In the video, he didn't clearly specify whether he went abroad for work or for visiting, though). Later he worked with political parties like PRP, Congress, and YSRCP. During "United AP movement", he resigned to YSRCP to join Jai Samaikyandhra party of Kiran Kumar Reddy.
He added, he was very much part of "Samaikya Andhra" movement and strong proponent of united AP. He worked with various organizations to study and disseminate information on the loss meted to residuary state of AP due to bifurcation. After joining Jai Samaikyandhra party, he worked sincerely for the party and in fact he was the one who looked after the party work related to Election commission – like registering party with EC. He claimed he is even one of the founder member of this party. He also claimed he worked extensively on preparing manifesto of this party. He contested elections from Pendurthi constituency as MLA candidate in 2014. Of course he lost from the elections, like all other members of that party.
So, to put in a nutshell, he worked with 4 political parties and contested as MLA. Maybe he is still not celebrity, but what people expected when the promo of "Common man" category in bigg boss was shown is – definitely not this . We will get to know more about him as the show progresses
About Bigg Boss Show:
Bigg Boss 2 is set to telecast from 10 June 2018. Bigg Boss Telugu opening season was hosted by Jr NTR , it was the highest rated shows on Telugu television history. After the huge success of season 1, the channel is looking for BBT-2. Natural Star Nani is set to host the second edition of the marquee program. Total 16 contestants will participate in the show and they will spend 100 days ( 70 days in season 1) in the Bigg Boss house.