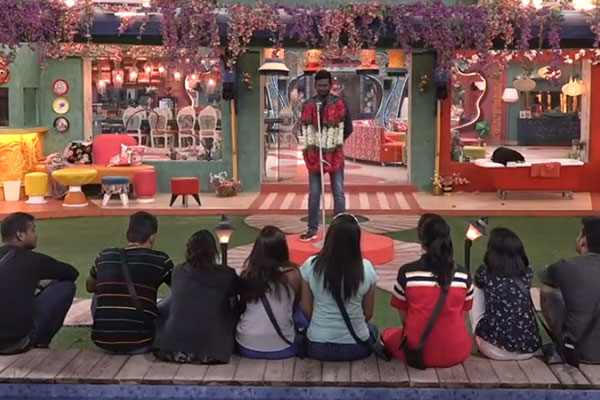 In today's episode, Mahesh becomes captain of the house. Also, Bigg boss gave a surprise to the housemates that made all the housemates very emotional. In fact, the opening song of the day in the morning itself was an emotional song and housemates became a bit emotional after listening to the song. Housemates like Shivajyothy even cried after listening to this song.
Housemates became emotional after seeing their beloved ones:
Today bigg boss brought beloved persons (from family members or relatives or friends) of each housemates into the house. Bigg boss told the housemates that they should not talk or do any gestures after seeing them and they need to sit in sofa silently without moving. The housemates are not allowed to meet their beloved ones immediately. Bigg boss asked each of these persons to pick a box from a bunch of boxes. The box may contain either Bigg boss logo or a joker. If it contains Bigg boss logo, they will be allowed to meet the housemates and if they get joker, they will not be able to meet the housemates. So, out of the 10 housemates, only 5 of them may get chance to meet their beloved persons.
Immediately after seeing their family members or friends or relatives on screen, housemates became very emotional and within minutes, entire house charged with emotions. Sreemukhi cried a lot after seeing her brother. Shivajyothy shed tears after seeing her husband. Ravi became so emotional after seeing his father. Almost all the housemates became very emotional. This will be continued in tomorrow's episode. We will have to wait till tomorrow's episode to see which of the housemates will get a chance to meet with their beloved ones. As of today, Vitika got chance but Mahesh lost the chance.
Mahesh Vitta becomes captain of the house:
Before this, Mahesh became captain of the house for the first time. From the college task, Baba was chosen as best lecturer among Varun, Vitika and Baba. Mahesh was chosen as best student among rest of the housemates. Out of these two, Mahesh was chosen as captain of the house. He is in nominations this week. If he survives this week's nomination, he will be in the house at least for next two weeks. Out of Rahul, Himaja and Mahesh who are in nominations, Rahul is leading with clear majority while Himaja and Mahesh are getting almost equal votes, as per reports.
We will have to wait till weekend to see who will exit this week.
Telugu360 is always open for the best and bright journalists. If you are interested in full-time or freelance, email us at
Krishna@telugu360.com