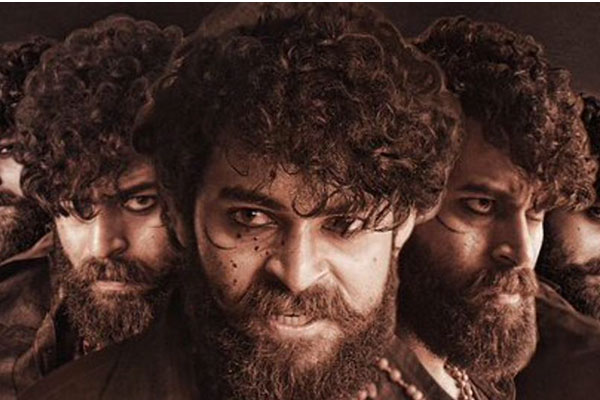 Valmiki Movie Review
Valmiki Review
Telugu360 Rating 3/5
Varun Tej is playing a full-length mass role for the first time in his career in Harish Shankar's Valmiki which is the official remake of Tamil hit Jigarthanda. Happening beauty Pooja Hegde is the leading lady and Atharva Murali will be seen in a prominent role.  
With a decent buzz, Valmiki is set for a solo release this Friday. Let's find out the verdict. 
Story :
A struggling assistant director ( Atharva Murali ) works hard for a break through by attempting a film on the life of a gangster. In pursuit of a solid untold story , the director finds Gaddhalakonda Ganesh ( Varun Tej ) story fits what he is looking for. To make it full length script , he reaches Ganesh's town and tries to get to know more from his gang. Rest of the story is about the difficulties the director faces convincing the gangster , once the latter agrees how the film making goes .. etc are told on screen
Analysis :
Valmiki in Telugu is an interesting attempt to start with. A hero with class image has been roped in for a ultra mass character, and directed by a man who is not in form. Thus industry has been skeptical about the film , but once the show begins ..it takes no time to realize you're on for an engaging ride.
The film's structure is unorthodox, yet to the point that even its two hour and fifty minute runtime seems to fly fast except for the pre-climax drag.
This film appears massy one but cannot be slotted into any genre. All ingredients associated with commercial cinema are mixed and served efficiently, though the graph plummets in the last 30 minutes.
Director Harish Shankar shows his strength in inserting mass elements. The run-time of 2 hour 50 minutes is an issue , few pre-climax scenes could have been trimmed
Performances :
Varun Tej , who has class hero image till date , stuns audience in this massy gangster role. His menacing looks and performance get him much required mass base. He will make Mega mass fans proud one more time. Pooja Hegde excelled in retro song , performance is good in her relatively short role. Atharva Murali , Mirnalini Ravi are adequate as the director and his love interest. Comedian Satya plays important role. Actor Brahmaji did well ( a+b)2 scene but his thread is a drag. Tanikella Bharani , Annapurnamma play other character roles. Telugu girl Dimple Hayati 's skin show in ' Zarra Zarra ' item song is mass crowd puller.
Ayananka Bose's cinematography sets the right mood for the film , elevates infact. Though a rural based film , it is bose's work that brings glossy look to the product. Mickey J Meyer songs and background score is good.
Positives :
Massy Good story with engaging screenplay
Varun Tej's getup and performance
Pooja Hegde in Retro Song ' Velluvochi Godaramma '
Item Song for front benchers
Adequate dose of Comedy entertainment
Negatives :
Dragged pre-climax , climax scenes
Verdict :
Valmiki is a raw, gripping tale of a rural gangster seen from the eyes of a maiden film director. Though the story appears a typical mass one , it has wider span and the unorthodox story telling makes it more interesting.
Varun Tej excelled in his first mass outing. You may watch this out and out commerical toned film.
Telugu360 Rating 3/5
(PS – This film has absolutely no relation to caste aspects of Boya and Valmiki)