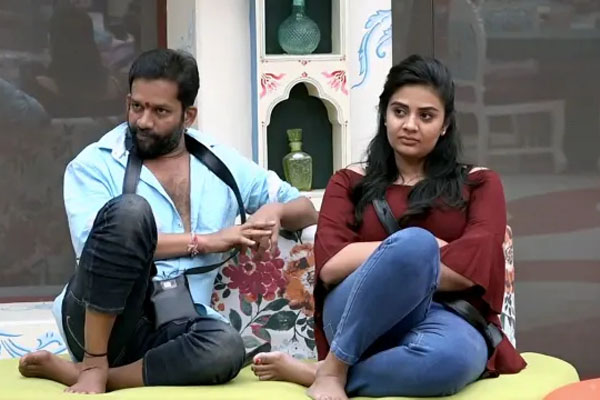 Monday is nomination day in Bigg boss. Usually, nominations re decided on housemates' opinions or physical tasks. However, today nominations are based on the random drawing of slips with numbers. That itself surprised the audience, but Bigg boss gave a further twist in the climax of the episode.
The nomination process:
Bigg boss gave a bowl with slips having numbers 1 to 7 to the housemates and they drew the slips. Baba got number 1, Rahul got number 2, Varun got number 3, Ali got to number 4, Shiv Jyothi got 5, Vithika got 6 and Sreemukhi got 7. Bigg boss told, whoever got last 4 numbers i.e. 4, 5, 6 and 7 – they are nominated for this week eviction. But there is a catch. Housemates can convince other housemates how they are better than that person and interchange their positions. They can repeat the process until they finally arrive at their positions.
Intense arguments and interchanging of positions:
The convincing part led to a lot of heated arguments between the housemates as nobody wants to admit they are weaker than the other. Instense arguments took place between Sreemukhi vs Rahul and Shiv Jyothy vs Vithika Varun exchanged his position 3 with his wife's position 6 saving her from nomination. Baba Bhaskar exchanged his position 1 with Sreemukhi's 7 saving her from nominations. Rahul did the same with Ali saving Ali from nominations. At this position, it looked like Shiva Jyothy, Varun, Rahul, and Baba will be in the nominations.
To save herself, Shiva Jyothy sank the entire ship:
As per the process, housemates need to convince others and get their position. But Shiva Jyothy played a foul game by standing in the same position as Vithika. Shiva Jyothy as well as Vithika, both know that if more than one person stands at the same place both will get nominated. In the previous season, Deepthi Nallamothu and Kaushal, both got nominated because of this reason. Both Vithika and Varun got tensed and argued with her, as they predicted the same outcome, but she adamantly stood at the position of Vithika along with her. She proved that, if the situation arises for her to sink, she doesn't mind sinking everyone along with her.
Bigg boss nominated the entire house:
Bigg boss finally announced that, as housemates couldn't decide positions, entire house will be nominated this week. We will have to wait and see who will get evicted this week. As of now, it looks like – Ali, Shiva Jyothi, and Vithika are the bottom 3, in the same order.