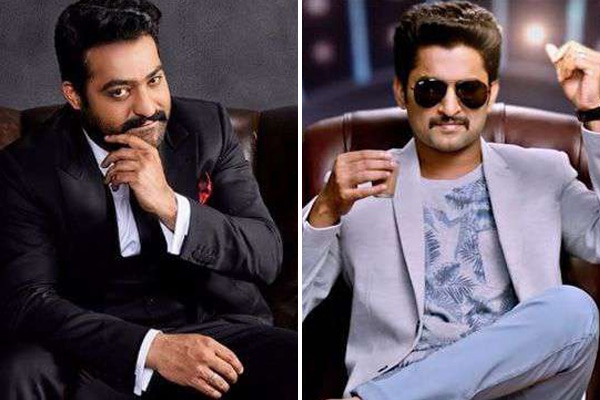 Bigg Boss season 2 ended last night and almost entire Telugu audience glued to the TV sets to watch the Finale. The show has become much bigger hit than Bigg Boss season 1. There has been discussion that how did Nani do as host when compared to NTR. Most of the people answer to this question, saying, both did very well and both have different styles and you cannot compare them with each other.
But let's see some analysis on their hosting of Bigg Boss. This is just to check how both of them did and NOT to prove who is better than the other.
One housemate said NTR is better and the other housemate said Nani is better:
Obviously all Bigg Boss contestants of season 1 and season 2, whoever answered this question on TV interviews gave diplomatic answers saying both are good. But there are two exceptions for this.
Bigg Boss season 2 contestant Sanjana compared Nani with china phone and NTR with iphone to answer this question. She said NTR did much better job than Nani as host. On the other hand Big Boss season 1 contestant, Jyothi in other interview told Nani did better than NTR and praised him for his hosting skills. Incidentally both of them got evicted in the first week of the season 2 and season 1 respectively. Probably the housemates who got evicted in first week, seem to be believing that Big Boss team or the host did injustice to them and that is reflecting in their answers . So it is more like their personal opinion rather than a rational answer for this question.
But to be frank, even though both the hosts did exceptionally good job, there are definitely some instances when people thought NTR could have done a better job than Nani at some places and vice versa too.
Both Nani and NTR started at a disadvantageous position
Nani started the show at a very disadvantageous position. Just before Nani starting the show, Sri Reddy made some scathing comments on Nani and unfortunately most of the major news channels gave wide publicity for those comments. Already Nani was in pressure to prove himself as NTR did a good job in season 1.
Not comparable to above, but NTR also started at a disadvantageous position as the show was first of its kind for Telugu audience and there were apprehensions about how the show will be received. Moreover, the host will be there only for two days but housemates have to run the show during the weekdays. If they do something seriously wrong, star hero like NTR has to face the blame.
But despite starting at disadvantageous positions, both the hosts were successful in making the show huge hit.
We will see in subsequent articles –
What are the aspects in which Nani did better than NTR and
What are the situations in which NTR could have handled better than Nani
-Zuran(CriticZuran)
Click here for Bigg Boss hosts: NTR vs Nani (Part-2)
Click here for Bigg Boss 2 hosts: NTR vs Nani (Part-3)