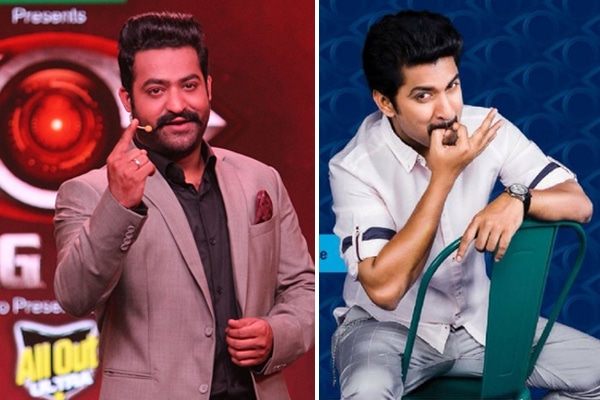 We have seen in previous article the situations when people thought NTR could have done better job than Nani. At the same time, Nani, who has excellent timing, handled the show very carefully. Despite not having NTR like stardom, he made the weekend episodes huge success, thanks to his natural anchoring.
Click here for Bigg Boss hosts: NTR vs Nani (Part-2)
Instances when Nani did better job than NTR:
There were many instances when Nani did great job as host and did better job than NTR.
Exemplary sense of humor:
Of course, he fumbled a bit while handling tough situations. But when it comes to handling happy situations or celebrations, Nani simply rocks and did much better job than NTR. His great sense of humor enthralled audience (https://www.telugu360.com/bigg-boss-tidbits-nani-showing-his-humor-and-imitation-skills/) Starting from first episode, his comic timing, his imitation skills and friendly nature impressed audience. Of course NTR also showed his sense of humor at times, but Nani's boy next door image and family image worked big time here and when it comes to entertaining tasks, Nani did much better job than NTR.
Improvisation of Bigg Boss hosting and setting new benchmark:
Nani improvised the hosting of Bigg boss show a lot. The way he created parables and interpreted them with housemates was very much applauded. Even season 1 host NTR praised showers on Nani for these improvisations. In fact, Nani set a new benchmark for future Bigg boss hosts. The way he improvised "Naa TV (My TV)" in season-1 as "Naa nee TV (My and your TV)" that sounds like "Nani TV" etc all showed his skills. The impromptu replies he gave to the housemates also showed his presence of mind. Actually BB hosting really requires some inherent talent and one cannot manage it with scripted dialogue. While handling such impromptu situations, Nani was much better. Probably his experience as RJ and host ( for some events) might have helped him. Definitely he proved once again, he is one the very few heroes in Telugu who can handle these kind of shows.
Handling the show for 16 weeks compared to 10 weeks and sustaining momentum.
When season-1 started, they kept it crisp and concise, for several reasons and it was for 10 weeks only. Whereas Bigg boss season 2 is much bigger in every aspect. It had 16 housemates plus two wild card entries. That is total of 18 contestants. The show ran for 16 weeks. Handling the show for these many weeks and sustaining momentum is humongous task and Nani handled this humongous task with such an ease. There might be criticism on Nani by the fans of housemates whenever Nani bashed them, but there was never a single remark on Nani regarding his hosting skills and Nani's weekend episodes were very much enjoyable. His natural performance was liked by all. The only complaint he had – i.e. being biased towards certain contestants, is also not completely true. In fact, in the initial episodes of season-1, some people commented NTR's anchoring as artificial. Of course NTR was quick enough to rectify such things. But as far as hosting skills is compared, Nani did better job than NTR.
Is stardom is required to handle Bigg Boss show? Could BB2 have become Bigger hit if NTR had hosted?
When some people troll hosts and housemates on social media platforms, it looked like had a bigger star like NTR hosted, things would have been different. But the fact is, it is not about stardom. Showing some guts during hosting and taking some strong decisions is the key. But at the same time, we can't conclude – if Bigg boss 2 would have become bigger hit had NTR hosted it. Kamal Hassan got extremely good applause for Bigg Boss Tamil season-1, but during season-2 he was criticized a lot. As fate of each film is different depending on story, the fate of each Bigg boss season is also different depending on the housemates of that season and "narrative" created by Bigg boss.
Finally,
Both NTR and Nani did great job as hosts. While Nani's strength lies in his exemplary hosting skills and sense of humor, NTR's strength lies in handling the entire show in a dignified manner. Obviously, Bigg boss 2 became much bigger hit than Bigg boss 1 and season-3 may become bigger hit than season 2 also. It depends on many factors like host, housemates, "narrative theme" created by Bigg boss etc. But as far as the hosting this show is considered, like NTR, Nani too set a new benchmark for the future hosts. More than that, this natural star made a strong impression on audience as Bigg Boss host with his performance that is as natural as perfect.
-Zuran (@CriticZuran)
Click here for Bigg Boss hosts: NTR vs Nani (Part-1)