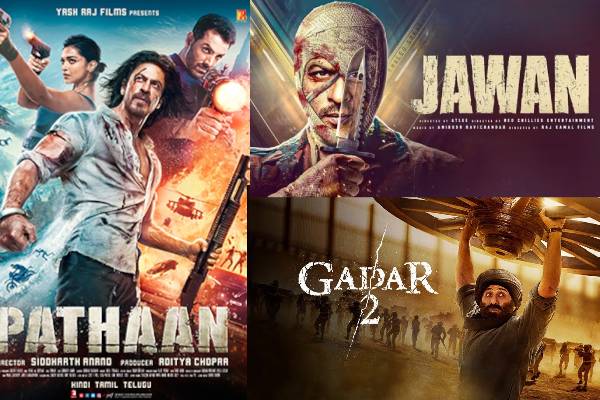 The year 2023 has undoubtedly been a game-changer for Bollywood, marking a triumphant return to form for the Indian film industry. After a tumultuous period of uncertainty, the silver screen is once again dazzling with a string of mega-hits. Let's dive into the cinematic journey that has defined this remarkable year.
Pathaan: Directed by Siddharth Anand and featuring the iconic Shah Rukh Khan, "Pathaan" stormed into theaters, shattering box office records worldwide. With a global gross of over 1000 crore rupees, it not only became the highest-grossing Indian film of 2023 but also delivered Shah Rukh Khan from a 10-year box office slump. This action thriller not only revitalized King Khan's career but also gave Bollywood a much-needed boost, showcasing that Indian cinema can still produce blockbusters that resonate with audiences across the globe.
Gadar 2: A sequel to the beloved "Gadar: Ek Prem Katha," "Gadar 2" brought back the powerhouse performance of Sunny Deol and the enduring love story that captured hearts. Directed and produced by Anil Sharma, this period action drama roared back onto the scene, grossing over 650 crores worldwide, a staggering tenfold return on its production budget. "Gadar 2" reignited the magic of its predecessor and reaffirmed the enduring popularity of its lead actors.
Jawan: This action thriller marked the Hindi film debut of acclaimed director Atlee and solidified his reputation as a master storyteller. "Jawan" soared past "Gadar 2" at the box office, claiming the title of the second-highest-grossing film of 2023. With a fresh narrative and high-octane action, it showcased Bollywood's ability to evolve and capture the imagination of a diverse audience.
The Revival of Bollywood:
Bollywood's resurgence in 2023 is not merely coincidental but the result of several factors coming into play. In the post-pandemic era, Bollywood witnessed a period of slump between 2020-22. Additionally, the industry grappled with calls for boycotts related to nepotism and political affiliations. Moreover, the longstanding reign of the Khans was questioned, signaling a potential shift in stardom dynamics. Moreover, the rise of streaming platforms and diverse content also added a new dimension to the entertainment landscape, altering viewer preferences. South Indian films like "Bahubali," "KGF," and "RRR" made their mark on the pan-Indian stage, providing stiff competition to Bollywood. All these factors contributed to the decline of Bollywood's prominence in the Indian Cinema. However, Bollywood entered the phase of revival in 2023.
The Future Looks Bright:
With the successes of "Pathaan," "Gadar 2," and "Jawan" setting the stage, Bollywood is now gearing up for an exciting future. Highly anticipated films like "Animal," "Tiger 3," "War 2," and "Singham Again" are generating considerable buzz and are expected to continue the industry's winning streak.
In conclusion, 2023 has been a pivotal year for Bollywood, reaffirming its position as a global cinematic powerhouse. With a blend of iconic stars, fresh talent, and diverse storytelling, Indian cinema is ready to captivate audiences both at home and abroad for years to come.