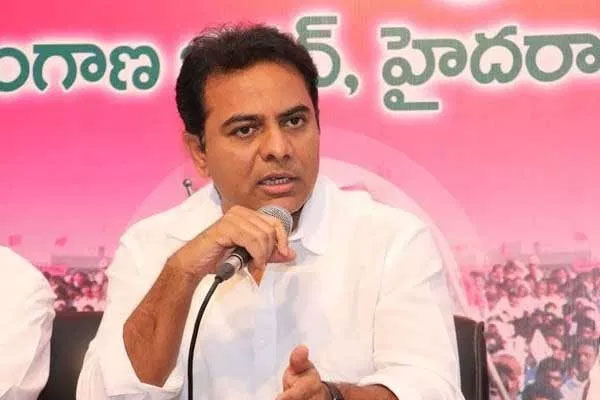 Bharat Rashtra Samithi (BRS) Working President K.T. Rama Rao on Monday asked a "straight question" to Prime Minister Narendra Modi and Telangana BJP chief Bandi Sanjay on skyrocketing fuel prices despite crude oil price dropping in the international market.
Rama Rao said that in May 2014 when crude per barrel was $107, petrol price was Rs 71 per litre but in March 2023 when crude oil per barrel is $65, the price of petrol is Rs 110 per litre.
"If fuel prices had to be hiked when price of crude oil went up, should they also not be brought down when prices drop? Who is benefiting from the hike," asked KTR, as the BRS leader is popularly known.
KTR, who is also a state minister, took to Twitter to pose the question to the PM. "To those who want petroleum products to be brought under GST to curb Fuel Price Hike; LPG is already under GST. But the price increased from Rs 400 to Rs 1200 in 8 years," he said.
He asked how can a "Non-performing Alliance (NPA)" that cannot control LPG cylinder prices be entrusted with petroleum products?
Telangana BJP president Bandi Sanjay hit back at KTR.
He tweeted that BRS is a party of bald-faced liars, people will not believe anything that KTR says anymore because KCR is not reducing VAT.
"Telangana people are forced to pay one of the highest rate for Petrol in India Rs 109.66/litre which is downright loot. In BJP ruled state UP it costs Rs 96.57/litre," Sanjay said.
The BJP leader said that VAT on petrol and diesel in Telangana is 35.2 per cent and 26 per cent, respectively, while in UP, it is 26.8 and 17.48 per cent.
Sanjay said that the Narendra Modi government cut central excise duty twice – in May 2022 and November 2021 – amounting cumulatively to Rs 13 per litre of petrol and Rs 15 per litre on diesel, at a cost of Rs 2.2 lakh crore a year to the Central exchequer. Prices of petrol & diesel in India (New Delhi) have declined by 5 per cent and 3.71 per cent, respectively between March 2022 & March 2023. These prices have gone up by 38 per cent and 104.02 per cent in Sri Lanka, 22 per cent and 45.16 per cent in Pakistan, 28 per cent and 20.23 per cent in Bangladesh and 22 per cent and 36.09 per cent in Nepal, he said.
"Their fabricated lies cannot conceal the fact that Global energy analysts and commentators are astonished at the fact that India, despite the sheer scale of its population – 50 lakh LPG cylinders are delivered by OMCs and 6 crore consumers visit OMC petrol pumps every day – has managed to ensure accessible and affordable energy to 1.4 billion people at a time when its immediate neighbourhood is facing dry-outs and massive price hikes, " said the BJP leader.
He also claimed that the BJP-led Central government even imposed an export cess and windfall tax on domestically produced petroleum products year to prevent exporters from profiteering at the cost of domestic consumers.
"Oil Marketing Companies incurred huge losses during price peaks for ensuring the supply of petrol and diesel at controlled rates to Indian citizens, which have been kept unchanged by public sector OMCs since 6th April 2022. Inspired by PM Modi's decisive consumer-welfare gesture, many state governments reduced VAT except Telangana. Instead of trying weary old tactic of spreading lies, the BRS should cut VAT in the best interest of the people," Sanjay added.