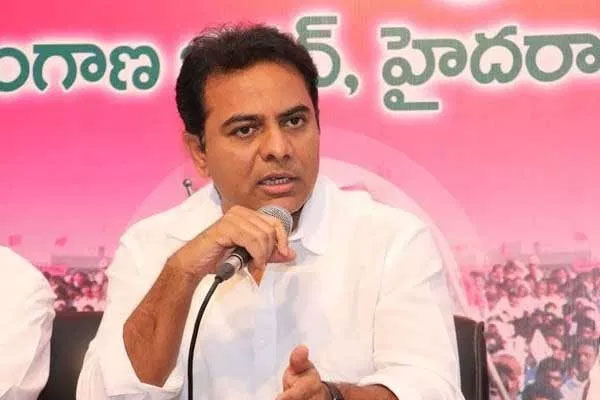 Bharat Rashtra Samithi (BRS) working President K.T. Rama Rao on Thursday sought an apology from the BJP-led Union government for skyrocketing fuel prices.
Slamming the Central government for 'burdening the common man with increased fuel prices', the BRS leader said in an open letter that the Centre is looting the public by citing international crude oil prices as the reason for the fuel price hike, but their deceit has been exposed.
"In 2013, when the cost of one crude oil barrel was $110, the cost of one litre petrol was Rs 76. Now, when the cost of one crude oil barrel is $66, the cost of one litre petrol is Rs 110," KTR pointed out.
KTR added that the Centre is fleecing the poor and middle class people by increasing prices just to benefit a few corporates.
"Due to the 45 per cent hike in fuel prices since 2014, all the essential commodities have become costlier," the state minister said.
KTR also said that due to the rise in diesel price, the state governments have been forced to increase public transport charges and the public transport system is on the brink of a crisis because of the Central government.
"The inflation is also at a 45-year high due to the failures of the Union government," he added.
The minister wondered that though the Centre makes tall claims regarding importing crude oil at lower prices from Russia, the same benefit is not passed on to the common man and only two oil companies are reaping huge profits.
"The Union government is importing crude oil at lower prices from Russia, refining it, and selling the refined fuel to other countries. They are hiding this key information from the public," KTR said.
He added that the Centre also reduced windfall tax on fuel to benefit some corporate entities.
KTR took a potshot at Central ministers for their remarks that bringing fuel under the purview of GST would reduce prices.
"The LPG cylinder price, which is under GST, has been hiked from Rs 400 to Rs 1200, making it the costliest LPG cylinder in the world," KTR said.
He also accused the Central government of conspiring to stop discussions on price rise in the Parliament.
"Rejecting the BJP is the only way to stop the looting of the Central government and to reduce fuel prices," KTR said.