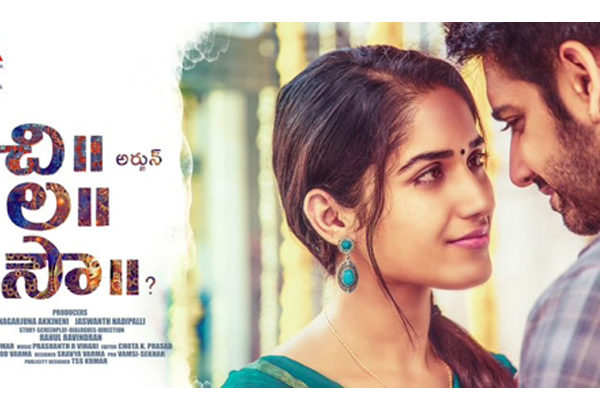 Chi La Sow Movie Review
Telugu360 Rating 3/5
Story:
Chi.La. Sow is about the sensibilities of a rich young man Arjun and amiddle-class girl Anjali. Arjun is a youngster who resists marriage as his parents pressure him to tie the knot. In the process, he meets Anjali for alliance. Rest of story is how confused Arjun deals with the conflict. The whole story occurs in the span of 24 hours.
Analysis:
Chi.La.Sow is a concept-based film. The whole story of this film runs within 24 hours span.As parents insist, Arjun agrees to let Anjali visit his home for 'Pelli Choopulu ". Lead pair Arjun (Sushant) and Anjali (Ruhani Sharma) both have strong opinion about their own marriages. Arjun has few goals to be achieved before marriage, Anjali has a need to marry someone who can take care of her bipolar disorder mom. Chi La Sow takes off on lighter vein and continues in same pattern except where Anjali's mom sentiment scenes are inserted. Vennela Kishore is Arjun's colleague and generates ample comedy
Major asset of this film is dialogues, the conversations are lively and practical. The brief crime episode has been adequately dealth with. The realistic situations are pleasant watch. However, why heroine rejects Arjun repeatedly isnt convincing, her nagging is bit inconvenience here and there.
Performances:
Sushant played the boy next door role with ease. Ruhani Sharma as Anjali is OK. Anu Hasan as hero's mother is a good choice, so is heroine's mother. Vennela Kishore shown great timing in comedy scenes. Rahul Ramakrishna played a cameo as an SI.
Technicians:
Debutant director Rahul Ravindran has delivered a well-made story, dialogues in his first outing. Sukumar's photography is cool, though the film is indoors for major part he did a good job. Prashant Vihari's music is soothing especially 'Mellaga mellaga 'is a top-class melody. His background score is yet another pleasant one.
Positives:
Feel good factor
Vennela Kishore Comedy scenes
Realistic moments
Refreshing treatment by Debutante director
Negatives:
Bit slow at emotional scenes
Verdict:
Chi La Sow is fun, emotion and sweet moments rightly blended film. The characterizations of Arjun, Anjali with urbane outlook may appeal to class audience. Vennela Kishore comedy scenes are major asset for this film.On flip side, narration is slow at times and Anjali's nagging has been over done. All in all, Mr. Rahul Ravindran, in his debut as director, has delivered a promising film. It appeals to entire family.
Telugu360 Rating 3/5
Release Date : 03rd Aug, 2018
Director : Rahul Ravindran
Music Director : Prasanth Vihari
Choreography : Sukumar M
Producer : Nagarjuna Akkineni
Starring : Sushanth and Ruhani Sharma