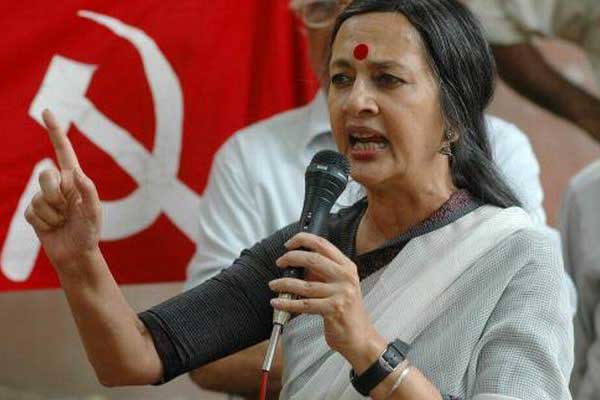 Communist party of India (Marxist) on Monday stated that it had rejected the white paper on Bauxite released by chief minister Chandrababu Naidu last week. Party national leader Brinda Karat said the white paper had been released at the behest of Prime Minister Modi's office. She alleged that both Modi and chief minister Naidu were determined to destroy the sensitive ecological balance by their pro corporate policies meant to benefit the select companies. On Monday, Brinda Karat visited the Agency areas in Visakhapatnam district and participated in a rally in Chintapally organized by the bauxite affected people.
Talking to media at Vizag, the CPM Rajya Sabha member said both centre and state government had violated the constitution amendment brought about to give autonomy to the tribal villages.
Recalling the way the TDP led by Naidu opposed the Bauxite mining when he was opposition leader in previous Assembly, Brinda Karat said chief minister Naidu's white paper, which was full of half truths and falsehood, failed to address the very question Naidu himself raised against bauxite mining.
The white paper, the communist leader said, was in favor of certain companies and countries interested in the exploiting the bauxite from India.
The white paper mirrors the double tongue of Naidu- opposing the mining of bauxite by talking in favor of tribal people and their rights and favoring the mining of ore destroying the environment and livelihoods of tribals when in power. Commenting on the contents, she said Andhra Pradesh government hid more facts and incorporated only such details which were false and in favor of the government.