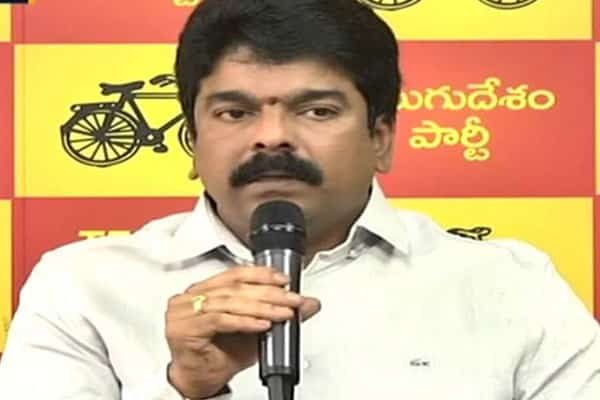 Can YSRCP president and Chief Minister, Jagan Mohan Reddy, dare enough to declare candidates for all the 175 Assembly segments in the State, asked TDP politburo member, Bonda Umamaheswara Rao, on Monday.
Talking to media persons at the party headquarters here, Bonda Umamaheswara Rao expressed confidence that whenever elections are held for the Assembly the TDP will sweep the polls. The situation for the YSRCP has come to such a pass that the majority of the sitting MLAs are not willing to contest on the party ticket and the YSRCP has to search for suitable candidates, Bonda Uma said.
This apart, the recent survey conducted by the IPAC revealed certain shocking facts that the ink people are no longer reposing faith in the YSRCP and Mr Jagan Mohan Reddy, he stated.
Particularly after this IPAC report, the sitting MLAs are not coming forward to re-contest the elections. All this is because of the inefficient administration and large scale corruption of Mr Jagan, Mr Bonda Uma added. While Jagan himself has announced that he is not going to give party tickets to at least 40 sitting MLAs, some have announced that they will not be in the race at all, he pointed out.
Perni Nani, Dharmana Prasada Rao and Chevireddy Bhasker Reddy are among those who are not ready to contest the elections again on YSRCP symbol, he stated. "I am now asking the Chief Minister whether he can announce the names of the candidates of his party for all the 175 Assembly segments," Bonda Umamaheswara Rao said.
Also, Perni Nani should tell the people of the State as to how many problems Jagan Mohan Reddy has solved though he made more than 20 visits to New Delhi in the past four years, Bonda Uma said. The people have totally lost faith in this Government and the IPAC report itself revealed that the party will confine itself to a single digit in the coming elections, he remarked.
Has Jagan fulfilled even a single promise made to the voters, the TDP politburo member asked and said that Jagan has minted lakhs of crores by selling poor quality liquor that claimed thousands of lives. "The TDP is already prepared to defeat the YSRCP whenever the elections are held," Bonda Umamaheswara Rao said and made it clear that his party is ready to face even early polls.