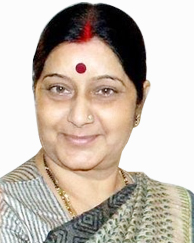 As the union minister Sushma Swaraj admitted that she helped tainted IPL ex chief Lalit Modi in getting the required documents to travel the United Kingdom, the demand for conflict of law is certainly the main point of analysts while the political opponents press for Sushma Swaraj's resignation.
Before we demand for Swaraj's resignation, on moral grounds, why not learn about 'conflict of interest,' and it's need for country.
Conflict of Interest:
When a person, who is at a responsible job, can misuse the power that he possesses on encountering a person close to him who requires his official help– is called conflict of interest. In simpler words, it's a clash between the official power and personal relations where the latter usually wins over the former in the absence of stringent laws.
First came into scene:
Germany's supremo Adolf Hitler first brought in conflict of interest laws as he firmly believed that his military had greater ambitions, which could be affected due to personal favouritisms.
There are basically two types of conflict of interest–self dealing and nepotism. In self-dealing, a person will directly deal with the opposite party whereas in nepotism, kin and kith of the person in power will press for favours.
What happened in Sushma Swaraj's case:
Sushma Swaraj's daughter, who is an advocate, was dealing Lalit Modi's case. It is known that Lalit Modi was wrapped up in the infamous IPL scam that kept him and the country in bad light. Also, he was asked not to move to any other country.
After Sushma Swaraj came to power, her daughter apparently sought favours-amounting to misuse of powers-from her.
Accordingly, as Sushma Swaraj admitted, she helped her daughter get the travel documents of Lalit Modi so that he could shift his base to the United Kingdom.
This is a clear case of nepositism as Sushma Swaraj's daughter is involved.
Earlier instances:
Many such cases came into the picture earlier in India. UPA's then chairperson Sonia Gandhi time and again hit the headlines for allegedly helping out her son-in-law Robert Vodra in many scams.
Implementation in corporate offices:
Many corporate offices have their own conflict of interest policies, accordinly, no husband and wife would be allowed to work in the same company as they might not be discharging their duties properly trying to favour eachother.
Need for conflict of interest law:
The country undoubtedly needs a strong conflict of interest law so that the leaders, like Sushma Swaraj, will time and again think about the law before they give into the demands of their kin and kith.