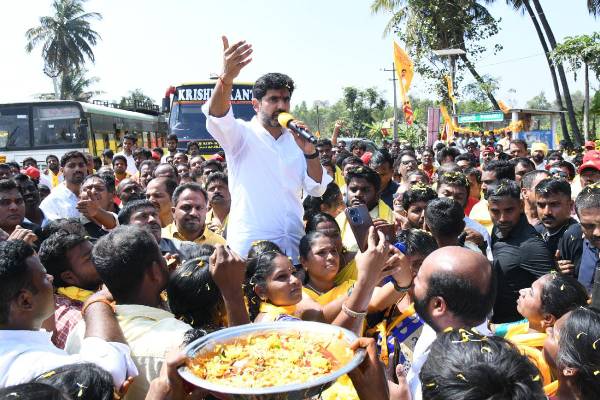 TDP general secretary, Nara Lokesh, on Saturday warned those YSRCP leaders of repaying with interest for the trouble they are creating to the TDP activists.
On the second day of his pada yatra 'Yuva Galam', Lokesh interacted with women and local farmers at Ganeshpuram Cross roads near Kuppam. The farmers and women narrated to Lokesh that their lives have become very burdensome with the steep hike in the prices of essential commodities.
The farmers explained that metres are being fixed forcibly for the motors and the taxes too have been hiked. "On the one hand the State Government is paying us just Rs 10 and on the other they are grabbing Rs 100 from us," they told Lokesh.
Lokesh said that there is a huge scam in the purchase of metres and these metres are fixed only to loot the farmers.
The TDP general secretary also visited the community halls of Kurubas and Valmikis and members of these communities told Lokesh that the YSRCP Government deliberately stalled the construction of these halls.
Even the land allotted to these community halls are illegally occupied by the local YSRCP leaders while belt-shops are being run in the half-built community halls, they informed the TDP general secretary.
Lokesh asked as to why the construction of these community halls has been stopped and promised to complete them once the TDP is back in power.
"If you are angry with Chandrababu Naidu, why are the Backward Classes (BCs) being targeted," he questioned the YSRCP leaders and said that loans are not being granted for the BCs.
He said that the lone Chief MInister in the country who brought down the reservations percentage for BCs is Jagan Mohan Reddy. "As the percentage of quota for BCs has been brought down by 10 per cent, thousands of leaders have lost their posts in the local bodies," Lokesh observed.
He wanted all sections of people to raise their voice against the cut in the reservations for BCs and also against the injustice being done to the communities. Lokesh promised to stand by the BCs and that the TDP will soon form an empowerment committee for BCs in the TDP.